Nicki Minaj is still the undisputed queen of hip-hop and there's no one in the game right now that even comes close to touching her throne.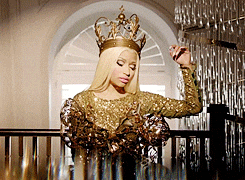 Unfortunately for the Brooklyn-bred rapper and her stan army of #Barbz, Forbes magazine is the latest publication to hop onto the media's Minaj hate train and slam the femcee for doing her thing and churning out trap bangers.
If Nicki Minaj wants to reclaim her place among the hip-hop elites, then 'Queen' needs to be a hithttps://t.co/hqUNC4kIAY pic.twitter.com/hE5W5rSZha

— Forbes (@Forbes) July 26, 2018
Brashly declaring that Minaj's rollout of her soon-to-be-released album "Queen" "reeks of desperation and hypocrisy," it's obvious that Forbes more than missed the mark. While I'll freely admit that Minaj's third single "Rich Sex" is undoubtedly a steaming trash heap, "Chun-Li" and "Barbie Tingz" straight slap on wax. With hard-hitting lyrical acrobatics and Minaj's tongue-in-cheek sardonic wit on full display, it's clear that the rapper is right on course for a successful follow-up to 2014's "The Pinkprint."
Nicki Minaj is not a washed-up rapper
If you say Chun-Li don't bump, you're just a pure hater. The shit SLAPS.

— i am… (@RobDevonn) April 15, 2018
Furthermore, Minaj's recent collaboration with fellow New York rapper Tekashi 6ix9ine isn't a desperate grab for publicity or a "shameless attempt to stay relevant." Yes, Minaj is a veteran 35-year-old rapper but that doesn't mean that she can't ever switch up her flow to match the new wave of SoundCloud rappers breaching the mainstream. If the age gap between Minaj and 6ix9ine is so problematic, why is it that no one blinks an eye when the "No Frauds" rapper links up with longtime collaborator Ariana Grande?
https://twitter.com/hfkdelicate/status/1009465436688113666
The answer, unfortunately, is that hip-hop stans are desperate to keep Minaj pigeonholed in a pop-rap crossover bubble. Just as Cardi B's post-"Bodak Yellow" releases aren't all straight trap turn-up bangers, Minaj's singles don't have to exude bubblegum "Super Bass" vibes.
With deep respect for every charting femcee at the moment, I love Minaj just as much as I adore Young M.A, Cardi B, and Dreezy. However, the fact that Bardi is younger and much more social media savvy does not negate the empire that Minaj built in the days of pre-Instagram-based fame. Back in 2008, the "Va Va Voom" rapper snatched wigs with "Pink Friday" because she single-handedly brought female-led hip-hop back into the mainstream. She usurped Lil' Kim's throne not because she was fresh and young, but because Lil' Kim went stale soon after "Lady Marmalade" hit the charts back in 2001.
Minaj deserves her spot at the top, and "Queen" will remind the world exactly why she's the femcee with the hottest bars, period.