Fresh off her 2018 social media hiatus and ready to make waves in a big way, Nicki Minaj is back on the scene to hype up #TheKingdom/#TheBarbz for her upcoming album release. As a bona fide fan of the self-described "black Barbie" since her come-up as a top-billed featured artist on Young Money bops from the late aughts, I've been praying to the ghost of 2014's "The Pinkprint" for Minaj to release another full-length studio project.
Unlike most other celebs, Minaj doesn't cater to the whims of her fandom and instead operates as both an iconic leader and a close friend to her stan army. Admittedly, one of the reasons I love Minaj so fiercely is her staunch refusal to become a mouthpiece for her label. As one of the only true femcees spitting bars right now, the "Barbie Tingz" rapper doesn't care if you don't agree with her creative decisions. She'll do what she wants WHEN she wants, and if you don't like it, you can kick rocks.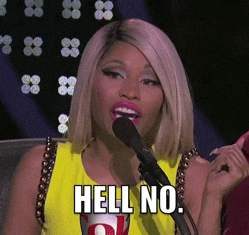 Nicki Minaj pushed her album release date back
Proving that she's not here to play, Minaj clapped back at the haters who came for her decision to push her "big announcement" back by merely a few hours.
"Ok well why don't I just scrap it altogether? No announcement. And another hiatus. XO," tweeted Minaj, ready to put her upcoming project on hold just to prove a point to her fandom.
Ok well why don't I just scrap it altogether? No announcement. And another hiatus. XO https://t.co/SS3g7Qf0hG

— Chun-Li (@NICKIMINAJ) May 24, 2018
Understandably, #TheKingdom was shook and quickly dropped apologies aimed at slipping back into the good favor of their leader.
https://twitter.com/World_Nicki282/status/999482090998652928
After calming down, Minaj finally hopped onto Instagram Live to drop the news of her delayed album release date while also offering the reason behind the change.
"The album itself I think I want to put out on August 10," said Minaj, addressing the departure from her original June 15 release date. "I want to put out my second single, which I'm really, really excited about, and I want to now start an official countdown. I also want to do some things where I invite some of my actual fans to the studio and listen to the album and listen to the songs."
So for the members of #TheKingdom still dragging Minaj on social media for dialing back the release of #Queen, it's time to stop. Your favorite rapper is using the extra time to drop new singles and increase her interaction with fans in the sprint leading up to the big drop. So really, what is there to complain about?
What sis ? Did you delay your fucking album ?

— ᴢ ɪ ᴀ ᴅ (@dopadrenaline) May 24, 2018
Perfection takes time, and I'm certain Minaj will serve up straight fire.