Twitter showed Cardi B nothing but love Monday night after the news broke that the rap newcomer's debut label-backed single "Bodak Yellow" claimed the top spot of the Billboard Hot 100 chart. Cardi's meteoric rise is both impressive and groundbreaking, as she is the first female rapper in 19 years to top the chart without a featured artist, second to Lauryn Hill's "Doo Wop (That Thing)" in 1998.
With this landmark success, she's also the first female soloist to climb to No. 1 with a debut single sans accompaniment since Meaghan Trainor's 2014 hit "All About That Bass."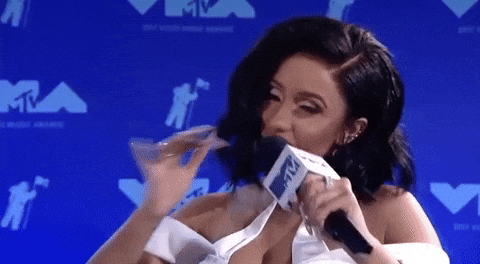 Respected artists from the music industry like Missy Elliot, YG, Pusha T, Quavo, and Head Barbz Nicki Minaj took to Twitter to congratulate Cardi on dethroning Taylor Swift's "Look What You Made Me Do."
Congrats @iamcardib #1 spot… 💪🏿💪🏿💪🏿

— King Push (@PUSHA_T) September 25, 2017
C A R D I B C O N G R A T S 🙌🏾
U DESERVE IT!! OUT THA MUDD

— QuavoYRN (@QuavoStuntin) September 25, 2017
Congratulations @iamcardib for having a #1 record in the country that's not as easy as it seem this huge🙌🏾 May u have continued blessings🙏🏾

— Missy Elliott (@MissyElliott) September 25, 2017
While fans of Cardi's take-no-shit personality and witty lyricism were pleased that the leader of the #BARDIGANG was finally getting mad respect, it was Nicki Minaj's public callout that had Twitter holding its breath. Fans of Minaj's decade-long tenure on the rap scene without a No. 1 hit were hesitant to praise Cardi B's quick come-up, and eagerly pitted the two against each other despite the fact that both women continually denied that any feud existed.
Following the news of "Bodak Yellow" reaching No. 1, the Queens MC congratulated Cardi, a fellow NYC rapper with a heartfelt tweet free from shade.
Congratulations to a fellow NEW YAWKA on a RECORD BREAKING achievement. Bardi, this is the only thing that matters!!! Enjoy it💕💞🎀 @iamcardib

— QUEEN (@NICKIMINAJ) September 25, 2017
Cardi was quick to respond, thanking the fellow rapper for her support and also referencing Minaj's clout in the industry.
Thank you!! This means sooo much coming from you!! ❤️ https://t.co/vPGwFiBAiQ

— iamcardib (@iamcardib) September 25, 2017
Thankfully, with this exchange Minaj and Cardi seemed to finally silence critics desperate to pin the two rap titans against each other. As Taylor Swift, who now sits comfortably at No. 2 on the chart would say, "There's a special place in hell for women who don't help other women."
Looks like Minaj and Cardi don't have anything to worry about.