As much as I love Cardi B for standing by her image even after "Bodak Yellow" skyrocketed her to the top of the hip-hop heap, there's no denying that sis knows how to make the press work for her.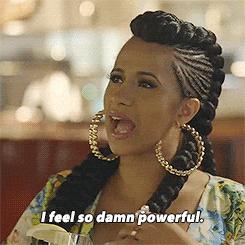 From cherrypicking her interview responses to manufacturing a social media image that leaves no room for anyone to throw shade on her shine, Cardi B clearly has no intentions of giving up her spot on the A-list. For someone who consistently reminds her fans that "fame ain't what it seems," the Bronx-bred femcee shows no signs of stepping off the Bardi hype train anytime soon. With her nine-month secret marriage to Migos rapper Offset now public knowledge, the "Be Careful" rapper's current profile is as swollen as her ready-to-pop pregnant belly.
Fame ain't what it seems 😓😪

— iamcardib (@iamcardib) October 9, 2017
Still salty over Bardi failing to show respect to the industry veterans who came before her, rap queen Nicki Minaj stepped down from her throne to diss the hitmaker for using the reveal of her marital status as leverage for free promotion.
Nicki Minaj thinks Cardi B's wedding reveal was planned
According to Minaj, Bardi's "frustration" over TMZ uncovering her marriage certificate from late 2017 was little more than a cry for attention.
"Nicki is not surprised Cardi covered up this wedding and lied about it to everyone. This is a much better way to play the game, this way she gets the maximum attention," said a source close to the "Chun-Li" rapper.
The cardi b and offset love story is interesting. She got cheated on, impulse marriage and pregnant all within a year

— Dani ❤️ (@Simplydee13) June 26, 2018
Cardi B can moan about "nosey f—s" getting in her business all she wants, but it's obvious that without their interest, she wouldn't be able to afford those Balenciagas that look like socks.
https://twitter.com/MNEK/status/1011990985914617856
The fact that Bardi's wedding reveal synced up perfectly with her baby shower and upcoming labor and delivery is DEFINITELY not a coincidence. By claiming that she was a victim of the press snooping around her personal life, the "Invasion of Privacy" rapper caught a win twice over. Benefiting from the extra exposure while still appearing humble to her loyal #BardiGang, Cardi B proved once more that she has this fame game figured out (whether she likes to admit it or not).
Judging from their touch-and-go relationship, it's no surprise that Minaj smelled Bardi's bullshit and labeled it for the headline grab that it was. While I still have mad love for the resident internet darling who is often praised for her intimate fan interactions, I'll admit that Bardi's latest see-through publicity stunt slightly soured my opinion of the hitmaker.
u can @ me or whatever but i think cardi b is the biggest attention whore

— miki minach (@gagshaddad) February 25, 2018
You can do better, Bardi.