Recently, rising pop star Noah Cyrus and new wave rapper Lil Xan have been hitting Instagram HARD with receipts of their budding romance. Flexing PDA-packed pics complete with sugar-sweet captions for the viewing pleasure of their millions of followers, it's obvious straight off the rip that while Cyrus may be 18 years old, she's definitely ready to enter the dating pool as an adult.
https://www.instagram.com/p/Bl7BluHHOZ7/?taken-by=xanxiety
Now, as much as I'm an advocate for former minors enjoying their first taste of freedom, there's not one good reason why Noah Cyrus should waste her golden years on trash bag Lil Xan. Not only is he a sleepy-eyed, slow-witted drug addict who frequently raps about the faux medicinal benefits of lean, Xan's bars aren't even worth a second listen.
You know who is trash? Lil Xan. Someone should stop him from making more music. :////

Goodnight

— ScumBag1000 (@dudenamed_dude) July 31, 2018
Noah Cyrus shouldn't be dating Lil Xan
Thankfully, the "Stay Together" singer's big sister Miley Cyrus is older, wiser and equipped with some seriously sage advice about the circus of Hollywood dating circles.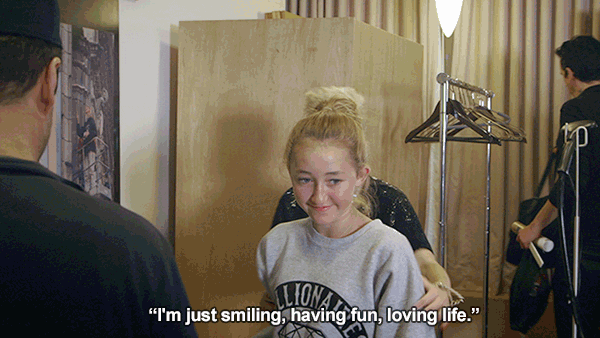 "Because Noah is so young, Miley just fears for her safety," says an insider close to the famous sisters. "She cautioned Noah not to do anything she is not comfortable doing and not to feel pressured by anyone. She let her know not to do anything she's uncomfortable with."
lol somebody called noah cyrus "xanny ray cyrus" because she date lil xan and i can't stop laughing 😂

— cha$ 👻 (@chashowson) August 2, 2018
Miley's right to assume that her little sister pairing up with a drug-friendly rapper three years her senior is bad news all around. Just at the very start of her career in the pop world, the last thing that Noah Cyrus needs is to enter a suddenly hot and heavy relationship that will undoubtedly distract her from her professional goals. Also, the fact that Lil Xan left his porn star ex-girlfriend to link up with Cyrus doesn't bode well for the health of their new relationship.
Wise up, Cyrus because there's still time to leave your bottom-of-the-barrel-SoundCloud boyfriend behind you.