Fifth Harmony is living proof that a girl group that slays together doesn't always stay together.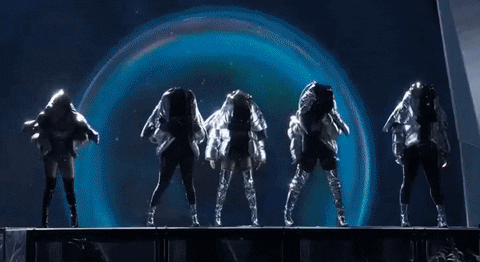 While it's no secret that Camila Cabello's December 2016 exit from the group left a large chasm between the "Crying in the Club" singer and the remaining four members, #Harmonizers around the world were shattered when the girls brought their professional beef into the spotlight via a series of sneak-dissin' Instagram posts. With a super-shady MTV Video Music Awards performance in which they literally threw a Cabello look-alike off the stage under their belt, remaining 5H members Ally Brooke, Normani, Lauren Jauregui, and Dinah Jane pivoted a sharp 180 degrees when they announced their semipermanent hiatus in March 2018.
— Fifth Harmony (@FifthHarmony) March 19, 2018
Now, less than one month after they announced their split, former member Normani is speaking up about chasing the same artistic freedom she once criticized Cabello for pursuing.
"I'm so incredibly grateful to be able to be in a place where I can explore myself as an artist and what I'm capable of," said Normani of her recently signed solo deal with Keep Cool/RCA Records. "Never in a million years did I think I would be in this position in 2018. Everyone has been so supportive and patient; thank you so much to my fans for giving me the opportunity."
With Normani hopping on the solo star train less than two years after throwing shade at Cabello, the Fifth Harmony fan base quickly put the "Love Lies" singer on blast for being a two-faced hypocrite.
"Suddenly you are proud of her you are nothing more than a hypocrite," wrote one fan who took to Twitter to rightfully drag Normani for suddenly heaping praise on Cabello's solo career now that she's breaking records and touring with Taylor Swift.
https://twitter.com/johannalopez/status/983422419447754752
Normani's honestly a follower. People shade Camila, she joins in. People start loving Camila, and realizing her talent, she joins in. It's been like this since the beginning.

— ً (@Iordecabello) April 9, 2018
Not surprisingly, Cabello is NOT here for Normani's fair-weather friendship and sudden support now that she is also standing on her own two feet away from the shadow of Fifth Harmony. "They never appreciated her, and she really does feel vindicated for sure," said a source close to the "Havana" singer.
With so many #Harmonizers still salty about Normani's treatment of Cabello's solo career, it's hard to imagine that her independent venture will be well-received by the fan community — which is a good thing. Some things just can't be undone.