Can someone do a wellness check on Pete Davidson, please?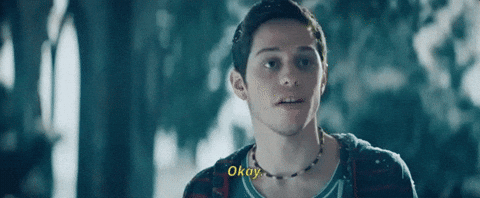 Briefly pausing his PDA-packed romance with pop princess Ariana Grande, the "Saturday Night Live" star hopped onto Instagram to inform fans about an interesting new development to his seemingly static appearance. While often pictured rocking an unchanging wardrobe of skater shoes, oversized shirts, baggy jeans, and baseball caps, Davidson recently proved that he's down to drastically change his image on a whim and shed his heroin-chic look with a dramatic dye job.
Pete Davidson look like he do heroin

— Dolemite (@GKToddHenny) July 1, 2018
Pete Davidson dyed his hair blond
Admittedly, I've become increasingly uncomfortable with the hype surrounding Grande and Davidson's fast-paced romance. Eager and ready to overshare their romance with the #Arianators desperate for the intimate details of their coupling, the two halves of #GrandSon have been doing the MOST to show the world how happy they are together. From countless sappy social media posts to awkward Twitter exchanges, Grande and Davidson have clearly crossed the line from "happily in love" to "creepy and obsessive."
Tbh I don't find Pete Davidson and Ariana Grande's whole whirlwind romance cute. I find it to appear pretty unhealthy. We've all had those passionate, obsessive loves but they're like a fire – they burn hot then flicker out. I'm not saying I wish this on them, but reality, man.

— Olivia Carmel (@ojcarm) June 21, 2018
I'm sorry, but both Grande and Davidson dumping their significant others, rushing into an engagement, and getting matching tattoos dedicated to one another does NOT seem like a pattern of balanced, healthy behavior. Additionally, Davidson's open stance regarding his past struggles with mental health and substance abuse issues leads me to believe that a sudden image makeover during a whirlwind romance probably isn't the best move for the late-night funnyman.
Shortly after unveiling his daring new do, Davidson dropped another pic of himself and his famous girlfriend enjoying a snack while wearing matching face masks.
https://www.instagram.com/p/Bkt-SkQnnVD/?hl=en&taken-by=petedavidson
While some fans have already unholstered their Twitter fingers to praise the makeover, I can't wrap my head around one single reason the comedian's image rebrand is a GOOD thing. Shelling out cash for a peroxide overhaul doesn't indicate that Davidson is in a good place because it is the most obvious sign of an impending celebrity breakdown (looking at you, Britney Spears).
And now Pete Davidson is blonde…. I didn't know the relationship with Ariana could get worse, but damn I was proven wrong.

— kp 🖤 (@therealkpeezy) July 2, 2018
Hopefully, Davidson's new lady love will push him to check himself before he (literally) wrecks himself.