Apparently, being a dad of three isn't enough for professional party boy and famous ex-Kardashian satellite Scott Disick.
No longer able to skate through his gilded Calabasas lifestyle as a kept man, Disick has moved on and fully embraced his controversial relationship with 19-year-old Sofia Richie. After watching every episode of "Keeping Up with the Kardashians," I'm admittedly not surprised that Disick switched from substance abuse to bedding Justin Bieber's leftovers. In addition to flaunting his May-December romance from the streets of Los Angeles to the pristine beaches of Cabo, Disick has NOT been shy about Richie ramping up her mommy duties with kids Mason, Penelope, and Reign often in tow.
https://www.instagram.com/p/Bidwagdlf_i/?taken-by=dailyscofia
Proving that he really is as much of a scumbag as Kourtney Kardashian has always claimed that he is, Disick allegedly has less-than-pure motives for pushing Richie into motherhood.
Scott Disick wants to get Sofia Richie pregnant
It's no secret that Disick only did the bare minimum for his famous ex as long as he did because he loved the fame and attention that constantly circles around the KarJenner crew. Pushed further and further away from their inner circle, it was only a matter of time before Disick put his best interests in front of the teen he has wrapped around his well-manicured finger.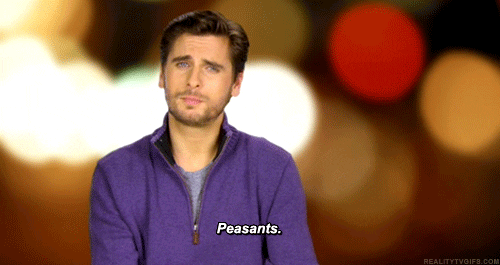 "Scott is putting pressure on Sofia to have a baby," a source close to Disick revealed. "He loves living a lavish lifestyle and pushing Sofia to have a baby is a way into her wealthy family." With his teen partner's father Lionel Richie worth a whopping $200 million, it's not surprising that Disick is drawn to cashing in on a lifetime of hefty child support checks. After all, the "Hello" crooner needs SOMEONE to help spend his "American Idol" checks, right?
Sadly, Disick's alleged motivation isn't surprising in the slightest. A former rich boy born with a silver spoon jammed in his mouth who has spent years surrounded by Kardashian money needs to come up with SOME way to keep up his expensive lifestyle.
While gunning to get a teenager pregnant is never a good idea, I have no doubt that Disick's infamous slick tongue will convince Richie to become barefoot and pregnant in no time. TBH, I'm actually kind of looking forward to the media circus (all commanded by Kris Jenner, of course) that will surround the birth of another baby Disick.