Unlike Rihanna, who showed up to fashion's biggest night dressed as a demigod of slayage, Selena Gomez rolled up to the 2018 Met Gala looking like she'd lost a fight with a spray tanner and a paintball gun loaded with knockoff concealer.
Selena Gomez arriving at the Met Gala like. #MetGala pic.twitter.com/vmGTb3O31I

— Denizcan James (@MrFilmkritik) May 8, 2018
While I'm definitely a fan of knocking the absurdity of some of the "fashion-forward" looks displayed by today's top designers at the super-exclusive annual gala, Selena Gomez's bold makeup decisions had me reaching for my phone, unsure of whether to call E!'s "Fashion Police" or actual first responders.
selena gomez dares to show up to the met gala in her granny's nightgown from 1930, streaky fake tan and concealer on her lips and expects me to not make fun of her

— letizia (@LADYLOKlS) May 8, 2018
Boasting a surprising amount of confidence for someone surrounded by journalists while looking like a carrot in the back of a vegetable patch, Gomez breezed through the red carpet while smiling demurely at the throngs of waiting photographers.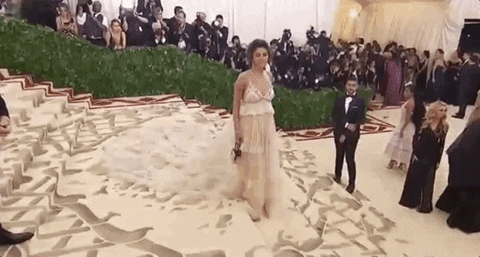 At first, I genuinely thought Gomez was living in a fantasy world without access to mirrors judging from the way she carried herself amid a major fashion mishap. Thankfully, the "Wolves" singer hopped onto Instagram after her controversial public appearance to let fans know that she wasn't 100 percent behind the overly tanned look.
Selena Gomez hated her terrible Met Gala look
"Me when I saw my pictures from MET ‍♀️," Gomez captioned a short video clip of her running through the streets of NYC.
https://www.instagram.com/p/Bij9CgvgbUY/?hl=en&taken-by=selenagomez
Admittedly, Gomez joining in on the criticism of her 2018 Met Gala look (albeit somewhat awkwardly) was a refreshing change from the bubble that celebrities normally sink into when facing a social media blast session. Now that it's clear that millions of dollars' worth of jewelry, a top-notch stylist, and a celebrated makeup artist don't necessarily guarantee a show-stopping red carpet appearance, I feel a little bit better about venturing out in public with my drugstore makeup and Old Navy cardigan.
Getting on top of the wave of harsh commentary coming her way instead of hiding behind her publicist and pretending like it never happened, Gomez proved that at the very least, she's self-aware enough to know when she's messed up.
We've all experienced the regret of leaving the house feeling like an untouchable queen only to scroll through pictures the day after, paralyzed by the silent horror of what we ACTUALLY looked like. While there's no doubt that Gomez looked tore up from the floor up, at least she's woman enough to admit it.