In yet another chapter of #TeamYeezy vs. pop's squeaky-clean princess, Taylor Swift fans attacked Kim Kardashian's Instagram after the reality queen allegedly threw serious shade with a recent post. Being the supportive and dutiful wife that she is, the Kardashian KKW Kween visited Kayne West's LA pop up shop back in 2016 when he made his foray into the contemporary art world by debuting the nude wax sculptures from his "Famous" music video.
Heading to a secret art gallery location to view Kanye's Famous Exhibition!!!!

— Kim Kardashian West (@KimKardashian) August 27, 2016
In the video, Kanye placed nude wax sculptures with the likeness of A-list famous faces next to each other in bed including Chris Brown, Donald Trump and of course, T-Swift. While that alone would be enough to light the spark of a headline-making celebrity feud, Yeezy's "I feel like me and Taylor might still have sex / Why? I made that bitch famous" line from the video's accompanying single sent the Swift army into a blonde-haired, chapstick-wearing frenzy.
Quick to call out the "misogynistic" lyric, Swift publicly voiced her condemnation of the song and put Yeezy on blast while blaming him for extending their years-long feud. Unfortunately for the pop star, the Kardashian queen of social media had the Snapchat receipts to prove that Swift pre-approved the line before the song's release.
https://twitter.com/ultralightbeam/status/754872018789470211?ref_src=twsrc%5Etfw&ref_url=https%3A%2F%2Fwww.teenvogue.com%2Fstory%2Fkim-kardashian-snapchat-taylor-swift-kanye-west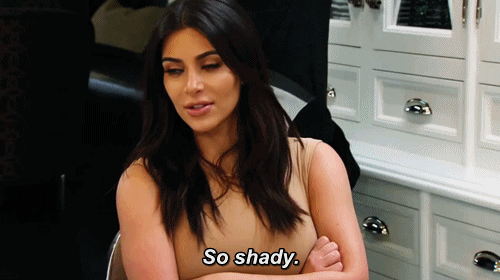 In a well-coordinated move, Kim K decided to post a throwback picture from the exhibit on the same day that Swift revealed her cover for British Vogue.
While the Kimoji mogul captioned the pic with "famous," a simple shout-out to the single, Swifties were convinced the reality star was stirring the pot and flooded the comments with rat emojis.

The emoji onslaught is a refreshing change of pace for Swift, whose account was inundated with snake emoji's after the "Famous" incident. The singer's fan army took it to the next level by referencing her leather-clad snake queen vibe for her "Look What You Made Me Do" visual, stating that if T-Swift is a snake, then Kim K is a rat– and snakes eat rats.

Yikes.
True to flawless form, Kim Kardashian kept it movin' and simply blocked the emoji from her IG comments while still keeping the post visible to all of her 105 million followers. For further proof that the drama didn't bring a wrinkle to her perfectly-contoured brow line, the 37-year-old continued to post pictures of her absolutely slaying Yeezy Season 6 looks.
Who knows? Maybe T-Swift will write a song about the incident and make #TeamYeezy even more "famous."