Kylie Jenner and Travis Scott stans are not letting go of the couple's "butterfly" symbol of love trickling down to the name of their daughter, Stormi Webster. Days after the arrival of her newborn daughter, Jenner took to Instagram to gift her millions of followers with a "glimpse" into the last nine months of the Lip Kit queen's life, complete with a flurry of butterfly imagery. During the video, Jenner visibly wraps her fingers around a silver butterfly necklace before showing off the delicate butterfly accents adorning her daughters room. In what appears to be further confirmation, both Jenner and boyfriend Scott can be seen flexing matching tattoos featuring the same eye-catching insect.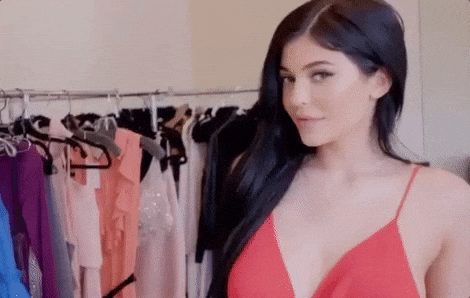 Along with the latest "Posie K" anniversary product launch pushed by Kylie Cosmetics and Travis Scott's 2017 hit track "Butterfly Effect," fans were convinced the young couple named their firstborn either Butterfly or Posie (a shortened form of mariposa, the Spanish word for butterfly). With these social media sleuths putting in so much legwork, it's not surprising that Twitter was devastated after Kylie revealed that she named her daughter Stormi instead.
Imagine the entire nation coming together to devise the butterfly theory behind Kylie Jenner's baby just for her to turn around and call it STORMI???? R u 4 real

— Dais (@DaisyyMeR0lling) February 6, 2018
Kylie : Post endless amounts of butterflies, gets matching 🦋 tattoo with Travis Scott

World : KYLIE'S babies name is BUTTERFLY !

Kris Jenner : NEW LIP KIT ALERT ! " POSIE K "

World : POSIE is short for Mariposa ! Mariposa=Butterfly in Spanish

Kylie : Stormi👼🏽

World : pic.twitter.com/9zwe9ztpDq

— 🍫ANAIYAKYMAHNI🍫 (@AnaiyaKymahni) February 6, 2018
Everyone was so certain Kylie's baby was gonna he called Butterfly but she threw a massive curveball and named her Stormi. pic.twitter.com/34K6EPeZyB

— guy fieri (@mimialiceg) February 6, 2018
Everyone: Kylie will call her baby Posie short for Mariposa as it's the Spanish for butterfly as Travis Sc
Kylie: Baby Stormi pic.twitter.com/BT5GRTD1YH

— G.S (@GraceShadrack) February 6, 2018
Unable to simply let the theory die, fans then speculated that Jenner was simply operating on a higher plane of thought than the rest of us non-millionaires. According to stan Twitter, Jenner and Scott chose the name Stormi based on the butterfly effect of chaos theory that states that an action as small as the flap of butterfly's wings can create a massive storm (AKA Stormi) days later.
""Stormi" is short for Storm," wrote one user, exploring the complexities of Jenner's alleged motivations for selecting the moniker. "A storm can be caused by a minute localized change in a complex system. That's known as the butterfly effect. Butterfly in Spanish is Mariposa…"
"Stormi" is short for Storm. A storm can be caused by a minute localized change in a complex system. That's known as the butterfly effect. Butterfly in Spanish is Mariposa…

— Damita Joe (@JoS_A_Skank) February 6, 2018
Theory… Kylie named her baby Stormi because of the butterfly effect… the beat of a butterfly's wings can set off a storm miles away 👶🏼 🦋 #Stormi #KylieJenner

— hannah (@Hannah_fenton) February 6, 2018
ok i didnt like the name stormi but then i saw the thing about how the butterfly effect causes a storm and wow that actually makes sense

— maya luckett (@mayanluck) February 7, 2018
While neither Jenner nor Scott has responded to the fan theory, the Internet is undeniably shook by the connection. After all, if the queen of Snapchat can keep her pregnancy a secret for nine months it's safe to say that anything is possible.