Say what you want about her, but Trisha Paytas knows exactly how much she's worth. Unlike countless other online entertainers who piggybacked off their silver-spoon upbringings to rake in millions of dollars' worth of ad revenue flaunting their Instagrammable lifestyles on social media, Paytas has worked hard for everything she has.
Following her hardscrabble upbringing, the 30-year-old YouTuber shot to fame with her unique brand of uploads ranging from intimate talks on the importance of self-esteem and self-care to videos detailing her struggle with body image issues. Oscillating between loving her curves/binge-eating on camera and wanting to lose weight, it seems that the only issue deep-rooted enough to rock Paytas' self-confidence is her struggle with the scale.
As Paytas has always been extremely open regarding her major vulnerability, it's shocking to discover that her longtime boyfriend and fellow YouTuber Jason Nash called her "fat" straight to her face.
Trisha Paytas dumped boyfriend Jason Nash
After her boyfriend Jason Nash called her "fat" to her face then made matters worse by backpedaling and calling her "heavy," Paytas was both heartbroken and completely done with their relationship.
"I get a lot of fat comments and fat stuff on the internet and yeah, it sucks. Everyone knows my struggle and insecurity, especially Jason," Paytas revealed to her nearly 4 million YouTube subscribers in a video titled "We Broke Up Because I'm Too Fat." "But I've never, ever had anyone say it to my face. I've never had someone refer to me as fat to my face and then tell me that I'm heavy."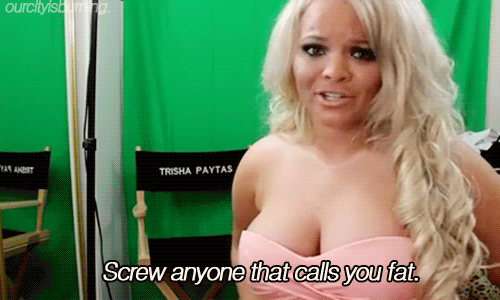 "I'm disgusted by myself and I'm just so humiliated that he would just say it," Paytas continued.
Sadly, the "Freaky" singer then vowed to not return to YouTube until she lost 50 pounds.
While Nash's comment may not seem like a huge deal to the average person, as someone intimately involved with Paytas it's clear that he had inside knowledge on just how deeply his words would slice through her psyche. Reduced to tears and struggling to get through the announcement, it's obvious that Paytas' previous armor of self-confidence is no longer a shield from the countless comments on her channel slamming her weight and appearance.
Good for you, Paytas, for cutting out a toxic relationship that served only to break you down, not build you up.
Trisha Paytas deserves better

— Steph (@HayyitsStephh) June 22, 2018