OK, I've had enough of Trisha Paytas. At first, I became an instant fan of her candid yet relaxed approached to crafting conversational YouTube videos, putting her vulnerabilities on the line in an attempt to empower and connect with her millions of subscribers. Outspoken about hot-button issues like mental health, body positivity, self-love, and self-care, Paytas stood out in a sea of young, rail-thin Los Angles-based vloggers obsessed with challenge and prank videos.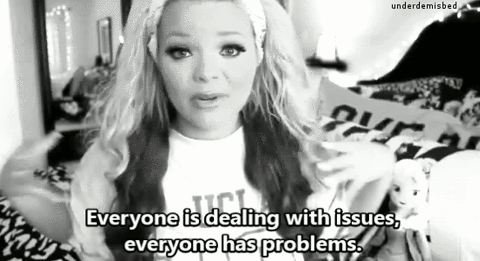 While the 30-year-old online entertainer can definitely be a bit too much at times, her hyperactive uploads and over-emotional responses are often, at the very least, spaced out in her feed. Now, with Paytas milking her "breakup" with boyfriend and fellow YouTuber Jason Nash for literally ALL it's worth, I'm calling it quits on supporting such a money-grubbing "star" who's set the bar even lower for her content collection.
Trisha Paytas is desperate for attention
Nearly a week ago, Paytas shocked the YouTube community by uploading a video detailing the reasons she split with the 45-year-old Nash. In the vlog, Paytas oscillated from hysterically crying and convulsing to making fevered promises about her future on the site. Explaining that she pulled the plug on their romance because Nash "called her fat," Paytas swore up and down that she would NEVER be able to move past the transgression and that she would lose 50 pounds before returning to her YouTube post.
After the initial breakup announcement, Paytas and Nash went on to record multiple back-and-forth videos addressing their "split," raking in millions of views and sadly tangling their dedicated fan bases up in their fabricated drama.
PLEASE STOP! I've haven't been saying anything about this, but please stop. This is you and Jason's breakup, so talk to Jason. We're not your breakup. You said you were leaving for a while, so do. If you're going to sort yourself out. Please do.

— Kimmy- i'm meeting jc ❤️ (@blink18kian) June 23, 2018
While some of Paytas' most dedicated stans showed out to support their icon by defending the validity of the split (because everyone monetizes their supposed emotional pain by uploading videos to YouTube, right?), it's more than obvious that both parties are pandering for easy money.
We see you @tanamongeau , out here liking tweets directed to @trishapaytas & @jasonnash … pic.twitter.com/doUghIfBGB

— MessyMonday (@MESSYMONDAY) July 3, 2018
Judging by the millions of views on ALL of their breakup-centered vlogs, Paytas and Nash's plan worked exactly as they'd planned it would.
honestly starting to think that trisha paytas and jason nash's breakup is a publicity stunt. and it's working, because you bet your ass i'm following this shit like a bloodhound.

— 𝒎𝒂𝒅𝒔 𝒃𝒍𝒂𝒄𝒌. (@strawberrymads) June 27, 2018
Now, they've cuddled up to one another in a joint vlog explaining their reunion, titled "this didn't go as planned." The Paytas x Nash train is moving ahead with no indication that it ever actually stopped. Despite the fact that the "Freaky" singer flat-out promised her viewers that the breakup was NOT a publicity stunt, I've never been more certain of Paytas' dedication to her YouTube paycheck. Exaggerating details for story time is one thing, but faking a mental breakdown is a new low for the former reality star.
Watch the entire train wreck below: