Blac Chyna needs to get her life together, stat. Aside from dealing with the fallout of swinging a stroller at a stranger during a family day out at Six Flags, the Lashed CEO has recently come under tabloid fire for flaunting her barely legal relationship with 18-year-old rapper YBN Almighty Jay all over social media. While clout-chasing a teen fresh out of high school with two young children of her own definitely rubs me the wrong way, Chyna is a free agent who is clearly confident enough to link up with whomever TF she wants despite the waves of criticism rolling her way.
https://www.instagram.com/p/Bh7UzbBFIE1/?hl=en&taken-by=blacchyna
Unfortunately for Rob Kardashian's former boo, YBN Almighty Jay recently hopped onto Instagram to let fans know that he'd "cut off" the mother of two.
YBN Almighty Jay broke up with Blac Chyna
"I cut her off bro. I'm a free man," claimed the 18-year-old in the comments section of fellow rapper Zoey Dollaz's Instagram Live session.
While I'm definitely not Chyna's No. 1 fan, I feel sorry for the model for having to face two social media drag sessions in one weekend. Fresh off her estranged mother Tokyo Toni slamming her on Instagram and calling her a "dumb bitch" in addition to a slew of other hateful insults, the reality star now has to deal with the public humiliation of her 18-year-old boy toy calling it quits on their romance. Following a recent string of PDA-heavy public appearances and a fresh batch of engagement and pregnancy rumors, YBN Almighty Jay approaching their split so casually is undoubtedly a huge blow to both Chyna's pride and her carefully maintained image as a HBIC.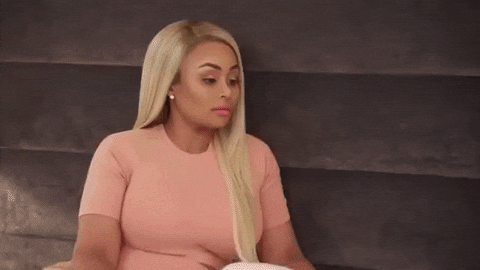 Spilled tears and heartbreak aside, I'm hoping that Chyna will use this embarrassing split as a starting point for a better life for both herself and her children. Referred to as a neglectful, drug-abusing mother by both of her baby daddies, it's clear that Chyna has a long way to go in the personal responsibility department.
Leave the drama behind, girl, because it's time to start fresh.