When a stray cat is a suspect in an attempted murder case, you know something is incredibly strange about the law enforcement of a town. But a cat is exactly what authorities in a Japanese town are targeting in an official police case.
Mayuko Matsumoto, an elderly woman, was found bleeding profusely from several cuts and gashes. Her daughter was the first person to find her in such a condition and immediately contacted the authorities. According to AFP, she told local Japanese news organization RKK, "When we found her, blood covered everything above her chin. Her face was soaked in blood. I didn't know what had happened."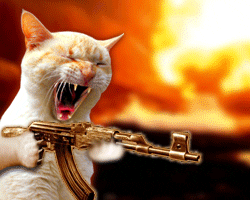 When the police arrived at the 82-year-old's house, they found no sign of a forced entry or of anyone else even being in the house. So what did they deduce happened? The stray cats loitering around Matsumoto's house were the culprits since the cops found traces of what may be human blood on one of them.
National new organization NHK reports, "Police are analyzing a blood sample taken from the claw of the cat which might have scratched the victim."
Matsumoto had to be taken away for emergency care and was left unable to speak following the accident. Maybe after a bit of healing, she'll be able to recount exactly what happened and we can get to the bottom of this case.