There are lots of dead celebrities. Some of them died of old age and stuff. Yawn. Others died from drugs and stuff. Less yawn, but still typical. Instead of talking about them, let's look at celebrities who died in weird accidents...
Anton Yelchin - Death by Parked Car
In 2016, the "Star Trek" actor was killed during one of those unexpected, freak accidents. Yelchin parked his car in his driveway and hopped out to check his mailbox. However, the actor forgot to put his car in park and as a result it rolled down the driveway, pinning the actor against a security fence and crushing him to death.
Tennessee Williams - Death by Bottle Cap
An unusual death in 1981, the American playwright was found dead in his hotel in New York after choking to death on a plastic bottle cap. The Chief Medical Examiner suggested the bottle cap may have been from a nasal inhaler or eye drop solution.
David Carradine - Death by Autoerotic Asphyxiation
In 2009, the actor was found dead in his hotel room in Bangkok where he was shooting his latest film, "Stretch." Carradine was found by police naked and hanging by a rope in his room. His death was reported as an accidental autoerotic asphyxiation.
Sonny Bono - Death by Tree
The former singer and Palm Springs Mayor died when he crashed into a tree while skiing in 1998. It's rumoured that the former husband to Grammy winner Cher, was murdered by drugs and weapons dealers who feared Bono would expose them.
Natalie Wood - Death by Drowning?
In 1981, the "West Side Story" star drowned while sailing the coast of Catalina Island. She was found with bruises on her body, but her death was ruled out accidental drowning. In 2011, a friend who was present on the boat the night she died claimed that her husband was responsible for her death as the pair fought before Wood died.
Isadora Duncan - Death by Scarf
While riding in a car in France in 1927, the California native dancer died when the scarf she wore around her neck became trapped in the wheels and rear axel of the vehicle. This ultimately resulted in the dancer being pulled from the car and breaking her neck.
Kristy MacColl - Death by Speed Boat
You'll recognise Kristy MacColl's voice every Christmas on the radio as the singer was famously known for her holiday hit, "Fairytale of New York." In 2000, the British singer was killed by a speed boat propeller in Mexico as she protected her sons while they swam in the sea with her.
Sherwood Anderson - Death by Toothpick
During a cruise in South America in 1941, the American novelist became ill with abdominal pain. Anderson died after he had disembarked the ship to seek medical assistance at the nearest hospital. His autopsy showed he had swallowed a toothpick that caused severe internal damage.
Beulah Bondi - Death by House Cat
The American film actress never married or had kids but instead lived at alone with her cat, who would subsequently be the cause of her death. In 1981, Bondi tripped over her cat and fell, breaking her ribs which caused the actress to die from pulmonary complications.
Natasha Richardson - Death by Skiing
In 2009, the British actress fell during a beginner's skiing lesson in Canada. After the fall, Richardson stood up and laughed off her injury and refused medical assistance. The actress who was married to Liam Neeson at the time was transferred to hospital hours later of a head trauma and a brain injury, but died later in hospital.
Mike Edwards - Death by Hay Bale
In 2010, the English cellist and member of the Electronic Light Orchestra died when a hay bale weighing 1,300 pounds rolled down a hill and landed on the van that he was driving.
William Holden - Death by Table
According to his autopsy, the American actor died in his Santa Monica apartment after he slipped on a rug while drunk and hit his head on his bedside table. His body was found four days later... yikes!
Harry Houdini - Death by Gut Punch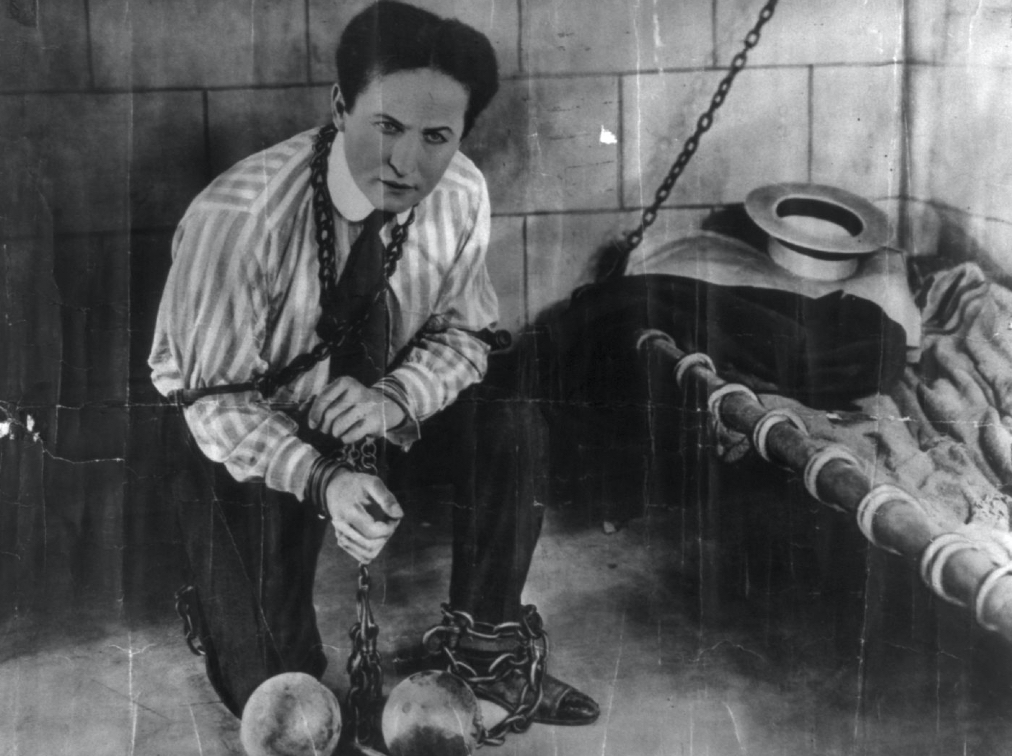 The professional illusionist died following blows to his stomach from two students who visited Houdini before a show in his dressing room, as Houdini had previously claimed he could withstand any abdominal blows. This caused Houdini to suffer from acute appendicitis and peritonitis in which he performed in pain during his last show and died later in hospital.
Pete Conrad - Death by Motorcycle
The third man to walk on the moon, Conrad was killed in 1999 after he was thrown from his motorcycle while driving within the speed limit. He was 69 years old.
Brandon Lee - Death by Accidental Shooting
On set of the movie "The Crow", actor Lee was accidentally shot during a scene in which his character was supposed to be shot. The gun was mistakenly loaded during the scene, killing Lee. Brandon Lee was the son of Bruce Lee who also died under mysterious circumstances while filming "Game of Death" in 1979.
Steve Irwin - Death by Stingray
In 2006, Irwin was recording a documentary, "Ocean's Deadliest" when a stingray stabbed the zoologist, puncturing his heart and causing him to bleed to death. He was 44 years old.
Les Harvey - Death by On-Stage Electrocution
During a concert in 1972, guitarist for Stone the Crows was electrocuted on stage in front of 1000 fans while tuning his guitar.
Michael Kennedy - Death by Ski-Football
During a family skiing holiday in Aspen in 1997, Michael Kennedy, son of Bobby Kennedy was playing football on skis when he crashed into a tree. Kennedy wasn't wearing any safety gear or helmet at the time of the accident and died later in hospital.
Vic Morrow - Death by Helicopter Propeller
In 1982, during the filming of "Twilight Zone: The Movie," Morrow and two child actors were killed by a helicopter rotor blade that ruptured during filming as the helicopter hovered 24 feet above them. Morrow and one of the children were decapitated while the second child actor was crushed to death by the helicopter.
Charmayne Maxwell - Death by Wine Glass
The 1990s pop star died in her home in L.A. after she tripped and fell backwards, falling onto her wine glass. The impact of the glass caused two fatal puncture wounds to her neck.