There are way more stories of Hollywood breakups than long-lasting celebrity love. But there are some fairy-tale celeb relationships that have lasted decades. Here are the famous couples whose relationships have survived the the test of time...
Dolly Parton and Carl Dean
Married in Georgia in 1966, Dolly Parton and her husband Carl Dean have stayed together more than 50 years. They prove that relationships can withstand the overpowering demands of celebrity life. The couple very rarely appear together, instead keeping their relationship out of the public eye. Maybe that's the to a lasting marriage when you're famous.
Will Smith and Jada Pinkett Smith
As one of Hollywood's most well known power couples, the Smiths give us inspiration and show us what it truly means to support one another in a relationship. The couple have been married since 1997 and since then have raised two kids, Jaden and Willow Smith, who have soared in their own showbiz careers. The couple have recently been supporting each other in projects such as "Will Smith's Bucket List" and Jada's intimate talk show, "Red Table Talk."
Sarah Jessica Parker and Matthew Broderick
Introduced to each other by one of her brothers, Sarah Jessica Parker and Matthew Broderick married in 1997 in New York, where they still live today. The couple have one son and twin daughters, and the family is often photographed walking around New York City. Parker and Broderick continue to make public appearances as a couple, looking as in love as they did 20 years ago.
Denzel and Pauletta Washington
Married since 1983, the Washingtons are picture-perfect when they step out on the red carpet together. The pair met in 1975 on the set of Denzel's first on-screen job, the TV show "Wilma." The couple have four children together including actor and former football player John David Washington.
Tom Hanks and Rita Wilson
Tom Hanks and Rita Wilson: one of Hollywood's all-time favorite marriages.
They met on the set of "Bosom Buddies" in 1980 and married in 1988 after Hanks divorced his first wife, Samantha Lewis. They have two sons together and appeared on screen together in the film "Sleepless in Seattle" in 1993.
Oprah Winfrey and Stedman Graham
Although never married, Oprah and her long term boyfriend Stedman Graham's relationship is rare in Hollywood. The couple have been dating since 1986 and and continue to hit the red carpet looking giddy and in love. In an interview with Ellen DeGeneres, Graham spoke highly of his love saying, "I'm dedicated to her happiness."
Kelly Ripa and Mark Consuela
This celebrity couple met in 1995 on the set of "All My Children" and have been together ever since. Although they definitely hold the title of a Hollywood power couple, they have had to live the bi-coastal life as Ripa hosts her talk show in New York and Consuela's acting career is based in L.A. However the 3,000 mile gap hasn't been damaging to their relationship as they celebrate 23 years of marriage.
Elton John and David Furnish
After his divorce from wife, Renate Blauel, Elton John began dating Canadian filmmaker, David Furnish. In 2005, the day civil partnership was legally permitted, the couple celebrated by making their relationship official and became one of the first couples to form a civil partnership in the U.K. In 2014, John and Furnish officially married in Windsor, U.K. They have two sons together.
Meryl Streep and Don Gummer
Following the death of her partner, actor John Cazale, in 1978, Streep married sculptor Don Gummer six months later. Streep had turned to Gummer, who was a friend of her brother's, for support. They've been inseparable ever since. You will often see Gummer accompanying his wife at red carpet events and supporting her as her No. 1 fan at award shows. The couple has four children together.
Hugh Jackman and Deborra-Lee Furness
Showing us that true love does exist, Hugh Jackman married Deborra-Lee Furness back in 1996 after meeting her on set of an Australian show, "Correlli." The couple have remained concrete following Jackman's success in Hollywood and Furness is always by his side at public events. The couple adopted two children after Deborra suffered two miscarriages.
Michael J. Fox and Tracy Pollan
Fox married fellow Canadian-American actor Tracy Pollan after meeting on set of 1980s sitcom "Family Ties" where he played her onscreen boyfriend. The couple didn't begin dating until years later when their paths crossed again on the set of "Bright Lights, Big City." They married in 1988 and have four children together.
Sting and Trudie Styler
Following the divorce of his first marriage, Sting met English actress and film producer, Trudie Styler. They married in 1992 and have four kids together. The couple have publicly hinted about their interests in tantric sex, swingers parties and strip clubs. In an interview with Harper's Bazaar, Sting spoke of the secret to a successful marriage saying, "When we see each other it's romance... I like to dress up, I like to dress her up."
Kirk Douglas and Anne Buydens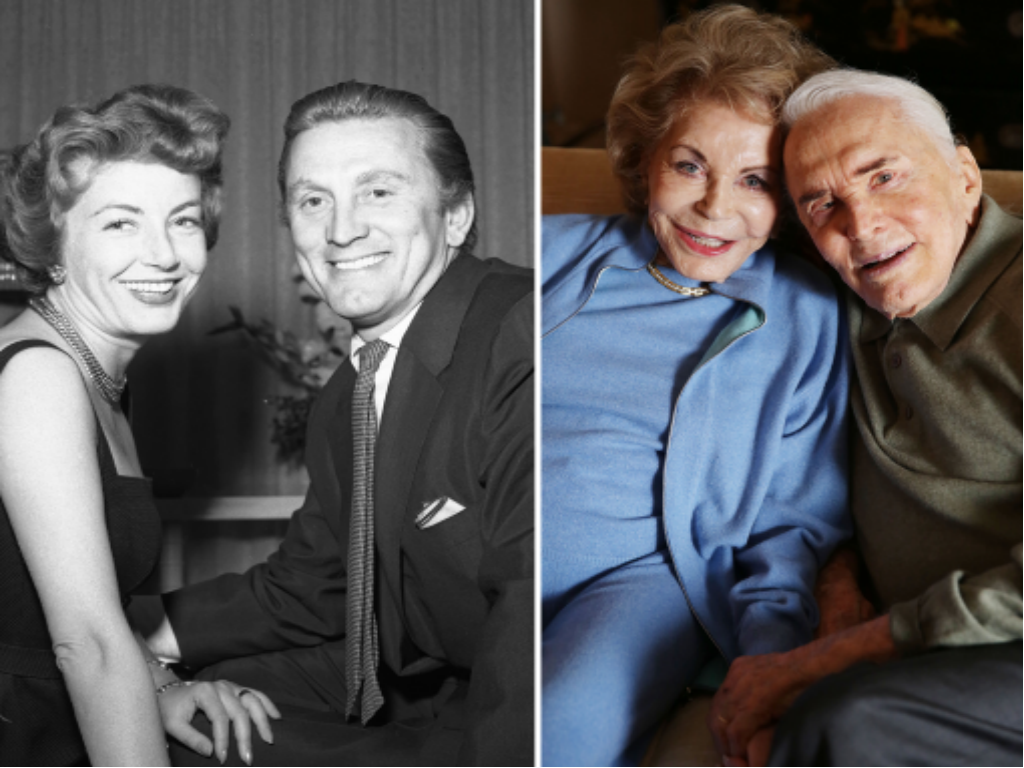 Kirk Douglas and Anne Buydens put all failed relationships to shame. The actor and his wife are certainly the ultimate couple goals as they gracefully grow old together, no doubt showing us the exact meaning of marriage. The couple married in 1954 and currently live in Los Angeles, California. Douglas is an impressive 102 years old, while Buydens celebrated her 100th birthday this year.
Michael Douglas and Catherine Zeta Jones
Following in his father's footsteps, Michael Douglas has been infatuated with his wife Catherine Zeta Jones since they met in 1999. The actor married the Welsh actress in 2000 and have two sons together. The couple definitely prove to us that a large age difference doesn't mean anything as their 25 year age gap clearly compliments their long-lasting relationship.
Ozzy and Sharon Osbourne
Although a long-lasting marriage, this relationship has experienced it's fair share of ups and downs. Together since 1972 and married since 1982, the Osbournes have publicly described how drug and alcohol abuse has affected their marriage. Their reality show, "The Osbournes" certainly showed us a day in the life of their hectic marriage.
Ellen DeGeneres and Portia de Rossi
One of Hollywood's most well-known marriages, the couple met in 2004 and married in 2008 after the California ban on same-sex marriages was lifted. De Rossi has appeared on her wife's talk show numerous times and in 2010 legally changed her name to Portia Lee James DeGeneres.

Tina Turner and Erwin Bach
Tina Turner met German music executive, Erwin Bach in 1986 while on tour for her Private Dancer tour. The couple dated for almost thirty years before finally tying the knot in 2013 in a civil ceremony. In 2018, the rock legend revealed that her husband donated his kidney to her as she faced a rapid kidney failure and prepared for her death.
Julia Louis-Dreyfus and Brad Hall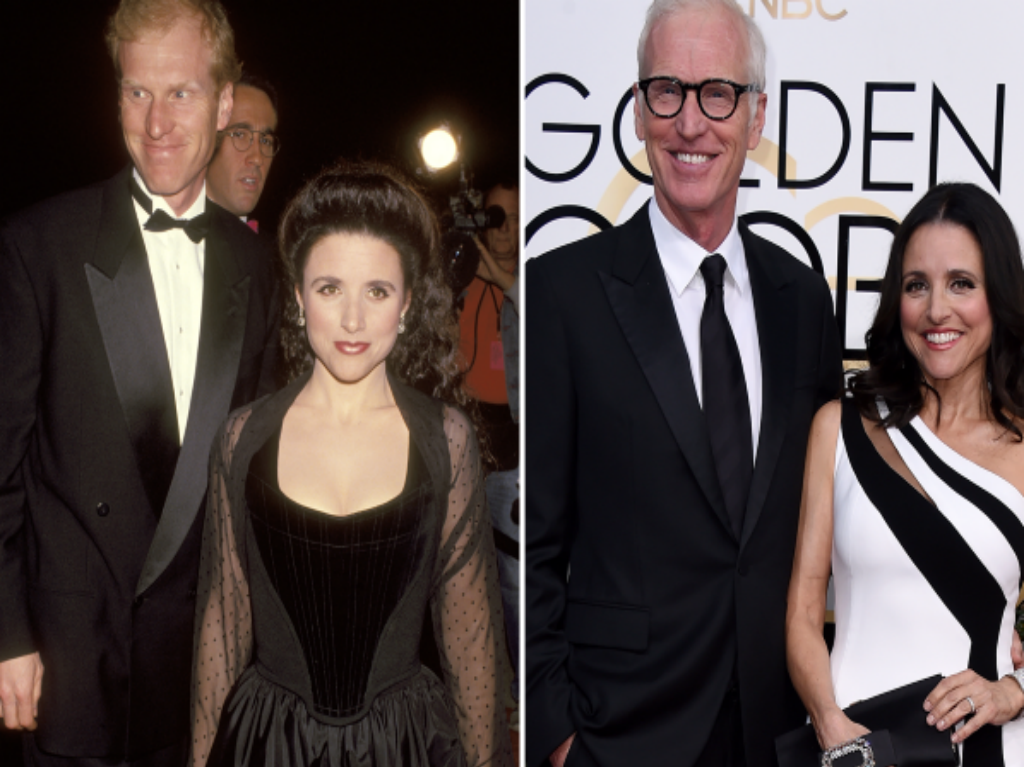 Married in 1987, Louis-Dreyfus and Brad Hall convince us that showbiz doesn't have to break your relationship, instead showing us that love alone is the key to a successful marriage. The college sweethearts performed on SNL together from 1982-1984 and have two sons.
Isla Fisher and Sacha Baron Cohen
Dating since 2002, the couple had a six year engagement as Fisher studied for three years to convert to Judaism in order to marry the British comedian. When speaking about her conversion, Fisher explained, "I will definitely have a Jewish wedding just to be with Sacha. I would do anything... to be united in marriage with him." They married in 2010 and have three children.
RuPaul and Georges LeBar
Our favorite drag queen, sassy on screen but certainly very quite when the wig comes off, as RuPaul is strict on his privacy behind the scenes especially with his relationships. After meeting his Australian partner in a nightclub back in 1994, RuPaul married his long-time love, Georges LeBar in 2017. The pair married on the exact date of their 23rd anniversary.
Bono and Alison Hewson
After meeting in Dublin as teenagers, the U2 front man has nothing but words of praise for his wife. In an interview with ET, the rock legend described his marriage as "A magic carpet ride." The couple who have been married for 37 years make marrying a rock star look easy. It is believed that many of U2's love songs including, "The Sweetest Thing" were inspired by Alison Hewson.
Goldie Hawn and Kurt Russell
This iconic Hollywood couple never tied the knot but they certainly show us that marriage is not necessary in order have a successful relationship. After meeting on set of a Disney movie in 1966, Hawn 21, took a liking to 16 year old Russell but admitted his age was a deal breaker as he was too young. Sure enough they met again in 1983 and have been together ever since.
John Travolta and Kelly Preston
Together since 1987, Travolta and Preston have stood by each other's side through thick and thin, even with repeated rumors flying around about Travolta's sexuality and the speculated six year affair with his pilot. Preston defended her husband to the New York Post disregarding any gossip and calling it insane. Travolta and Preston have one daughter and two sons, one of whom died in 2009.
Leslie Mann and Judd Apatow
Mann and Apatow's marriages is an embodiment of a successful partnership. The pair have been married for 22 years and have two daughters, both who have appeared in movies such as "This is 40" and "Knocked Up", which starred their mother and were directed by their father.