Music album covers are a unique form of artwork, and it takes a lot of effort to pair the right visual with the music it's meant to represent. In some parts of the world, though, some artwork can be seen as too risqué or inappropriate, and many things are censored or edited— with hilarious results!
Ariana Grande: 'My Everything'
Ariana Grande's "My Everything" is certainly nowhere near as revealing as the previous album covers, but it still shows off a lot more skin than more conservative audiences across the Middle East might appreciate.
The Edit
The edited "My Everything" keeps the picture more or less intact, but manages to turn underwear in outer wear rather effectively. Technically, it's the same picture, with Grande in the same pose. At the same time, the message feels very different.
Billie Eilish: 'When We All Fall Asleep, Where Do We Go?'
There is no possible reason to object to Billie Eilish's "When We All Fall Asleep, Where Do We Go?" on the grounds of modesty. The singer is fully clothed to the point that even her ankles aren't showing. In spite of this, Melovaz has played its usual trick with this album...
The Edit
It's almost - almost - as if Melovaz isn't editing out women for the sake of preserving their dignity. It's almost as if there's some ulterior motive to making women less visible even when selling their artistic creations. Hmm.
Christina Aguilera: 'Stripped'
Christina Aguilera's "Stripped" features the star fully clothed from the waist down, but probably a little chilly nonetheless. Should anyone really expect anything else from an album named "Stripped?"
The Edit
For an album released in the early '00s, "Stripped" received an era-appropriate edit. This skirt looked so cool in 2002, even if now it just looks weird.
Shakira: 'Oral Fixation Vol 2'
Another album cover which is considered inappropriate by some audiences in the Middle East, Shakira's "Oral Fixation Vol 2" features some very potent Biblical imagery, so it's somewhat surprising the album cover (and, indeed, its name) survived censorship at all.
The Edit
The solution: more shrubbery. Where the original image shows Shakira as Eve in the Garden of Eden, her modesty preserved by a flimsy branch, the edit simply covers up a little more. This is probably the best edit to any album cover on this list.
Katy Perry: 'Teenage Dream'
It's not hard to see why Katy Perry floating on a cloud on the cover of "Teenage Dream" might not fit some culture's standards of modesty. Perry receives quite a lot of tweaks when her overtly suggestive album covers head to the Middle East.
The Edit
Here a Photoshop artist has taken the Shakira approach of simply extending the coverings that were already present on the album, so Perry disappears into the clouds. The difference is that the use of the smear tool is very apparent, scuffing an otherwise masterfully painted album cover.

Kylie Minogue: 'Fever'
Kylie Minogue's "Fever" features the singer wearing absolutely nothing on her legs. This is considered offensive by some people in some parts of the world, so changes were necessary.
The Edit
Wait, does Minogue have three arms in this picture? In order to solve the problem of her risque outfit, someone has simply pasted a completely different woman's body into the picture!

Lady Gaga: 'Joanne' (Piano Version)
We're back with Lady Gaga, with the cover for the piano version of "Joanne." As with Taylor Swift's "Lover," Melovaz felt this needed a change, and yet again, they went a bit overboard...
The Edit
Lady Gaga is gone. Entirely gone. The horse is still there, albeit looking a little the worse for wear. This Photoshop job is more than a little rushed, and the result makes it look like your phone might be glitching.
The Edit (Again)
Another edition of Lady Gaga's song Joanne was censored to remove Gaga entirely, again. All that remains on her cover of her fifth studio album is her iconic pink hat and a blurred haze where the singer used to be. Apparently there must have been a problem with the singer's bare shoulder.
Taylor Swift: 'Lover'
You're probably wondering what could possibly be done to censor this image, considering that Taylor Swift is entirely covered up below the neck on the cover of "Lover." Believe it or not, one music service provider in Iran felt the need to remove something really important from this picture...
The Edit
Did Iranian music site Melovaz just censor all of Taylor Swift? From the cover of her own album?! Cultural differences deserve respect, but editing out a fully clothed woman does feel a bit extreme.
Avril Lavigne: 'Head Above Water'
Here's another artistic piece showing off more of Avril Lavigne than some Muslim audiences want to see. In fairness, it does seem odd that so many female musicians need to bear it all in order to make album sales. The same is definitely not true of their male colleagues.
The Edit
If the music industry has a problem (and it does) with overly sexualizing its female stars, this problem isn't going to be fixed with literal erasure. As with Lady Gaga and Taylor Swift, Lavigne has been entirely removed from her own album cover, making for an incredibly generic final piece.

Christina Aguilera: 'Lotus'
It's not hard to see why Christina Aguilera's "Lotus" would need to be edited in some parts of the world. Predominantly Muslim countries across the Middle East have very different cultural standards regarding nudity. The solution here was less than graceful, though...
The Edit
Considering that the original cover for "Lotus" features Aguilera stood inside a lotus flower, covering up her body with additional lotus petals makes sense. What makes this hilarious is just how badly the job has been done, with jagged, low-resolution petals hastily photoshopped on top of the image.
Mariah Carey: 'Butterfly'
Mariah Carey's "Butterfly" is a classic '90s album with a classic '90s cover. Her midriff revealing tube top isn't ideal for some audiences, so this was fixed for its release in the Middle East.
The Edit
Yup, this is just a regular T-shirt now. Nothing to see here. Pay no attention to how the shirt's pattern repeats itself. Or how her sleeves continue the pattern without a break.
Lady Gaga: 'The Remix'
Again, no prizes for guessing why Lady Gaga's "The Remix" needed work for some audiences. This is literally a picture of the singer wearing gloves, lipstick, some suggestive newspaper clippings, and nothing else.

The Edit
How to cover up Lady Gaga's body on this album cover? Why not just paste the names of all the songs on the album in Impact font over anything revealing? There's no way this took more than ten minutes to edit.
The Edit (again)
Before moving on from "The Remix," it's worth bearing in mind that the album cover was also changed in Britain, not exactly helping the nation's reputation as easily offended prudes. In the UK, instead of hastily photoshop the existing cover, "The Remix" was simply given an entirely new, less revealing cover. It's not that hard to fix an awkward album cover.
Madonna: 'Hard Candy'
You can probably spot the problem with Madonna's "Hard Candy." It's the crucifix. That's certainly not going to fly in some Muslim countries. Oh, the bare arms and legs aren't ideal either.
The Edit
Here, Photoshop has been used to give Madonna a lot more covering. It's interesting how her neckline remains untouched— perhaps to draw attention to the fact that she's no longer wearing a Christian symbol?
Lady Gaga: 'Do What U Want'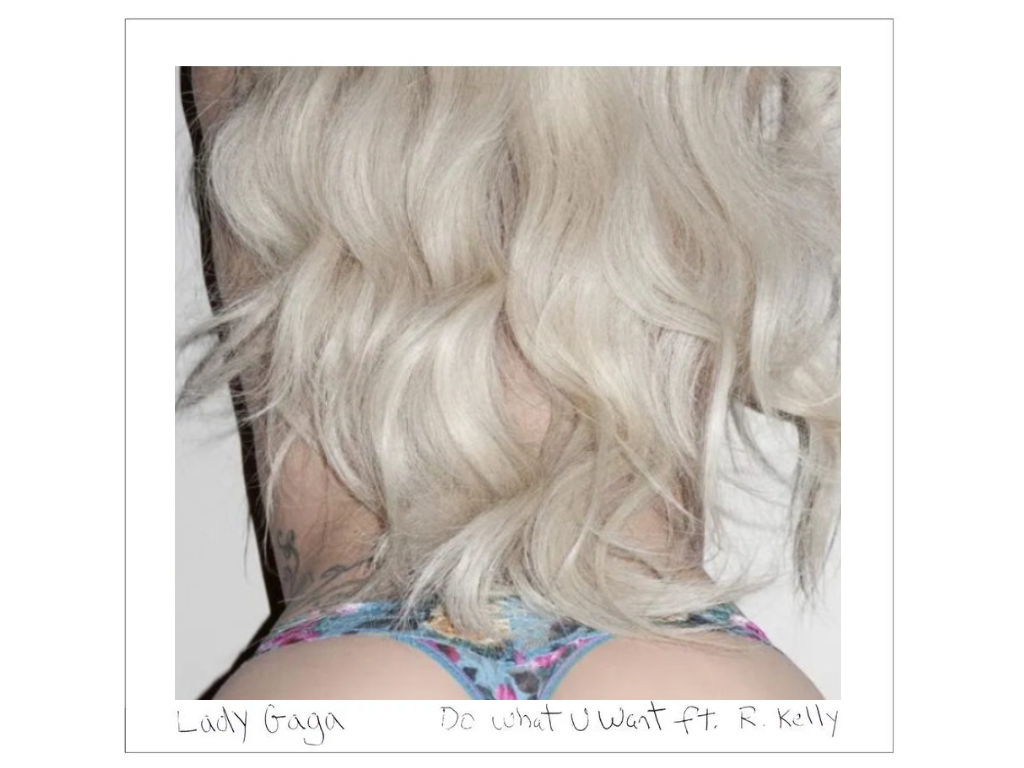 There's hardly a single Lady Gaga album or single cover that remains untouched when it enters the Middle East. The cover for "Do What U Want" is no exception, because, in fairness, it is simply a picture of her butt.

The Edit
This fix job is just hilarious. You can see where the Photoshop artist simply didn't bother blending Lady Gaga's hair to match the black waistband of the skirt that's been quickly layered on top. Have a look at the right side of the skirt and you can see sharp, straight lines where it was awkwardly selected using the Photoshop lasso tool.