From 1988 until 1997, Roseanne was one of the most popular sitcoms on television. The show made Roseanne Barr and John Goodman household names. It's even been ranked by TV Guide as one of the greatest TV shows of all time. But there's a lot about this classic series that you may not know. As we dive into the stories behind the stories, we'll see how what happened off-screen was in some cases just as entertaining as what happened on screen.
So Many Controversies
The show Roseanne was plagued by seemingly countless controversies throughout its existence, including fights with writers, producers, the network, and even Barr's own sister. Some of Barr's creative choices would be controversial and later ignored and rewritten by the network. Despite this, there's no denying that the show's success continues to be celebrated and remembered to this day, even though the titular character no longer appears on the show she helped create.
How It All Started
Roseanne began when two producers named Marcy Carsey and Tom Werner decided they'd like to develop a show about a working class mother. The producing duo had their own company called, appropriately enough, The Carsey-Werner Company. Prior to Roseanne, the company had produced the hit series The Cosby Show. But Roseanne wasn't always thought of as the hit series it ended up being.
Choosing Roseanne Barr
Roseanne Barr was a standup comedian known for her feisty and confrontational persona. Carsey and Werner saw Roseanne perform her act on The Tonight Show and thought she would be a perfect person to develop a show around. So the producers called Roseanne's agent to discuss making a show together.
A Women-Influenced Project
From the beginning, Roseanne made an attempt to include a number of women in its creative team. Among these women were Roseanne herself; producer Marcy Carsey; writers Grace McKeaney, Lauren Eve Anderson, and Laurie Gelman; and director Ellen Gittelsohn. The show was credited for being one of the first to focus on a working class woman.
Casting A Husband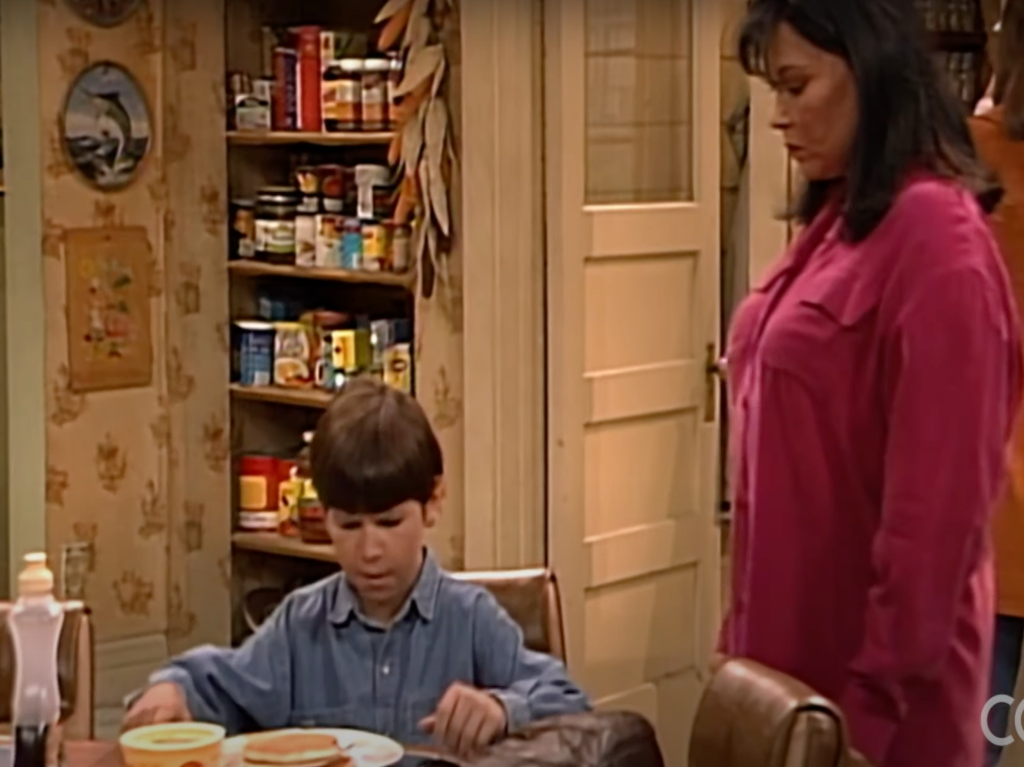 Ultimately, John Goodman would be cast in the role of Roseanne's husband, launching him on a long and fruitful career in Hollywood. But Barr wanted her future real-life husband Tom Arnold to be cast instead. She lobbied for Arnold to be cast but ultimately the network loved Goodman in the role.
Fire Code Violations
One odd but true fact about the production of Roseanne is that the filming of the first pilot episode was delayed due to fire code violations. Apparently the violations were serious enough that filming needed to be delayed an entire week. Despite this, the show would go on to become a huge hit.
Ratings Success
When Roseanne premiered in 1988, it wasn't long before audiences began flocking to the show. In its second season, it was the number one show in the ratings, beating out the massively popular Cosby Show. Season one had around 36 million viewers, while season two had almost 40 million.
An Unwanted Gift
When the show hit number one in the ratings, the network decided to send Barr a celebratory gift. But the gift offended Barr. It was a giant piece of chocolate in the shape of a number one. Barr hated the gift, seeing it as a joke about her weight. She reportedly tossed the chocolate into the air and George Clooney destroyed it with a baseball bat.
A Dip In The Ratings
Considering Roseanne was the most popular TV show in America during its second season, there was only one place for it to go: down. Viewership declined significantly throughout the show's 10-season run, although it remained a popular show for all 10 seasons. By Season 9 in 1996, the show recorded nearly 19 million viewers, a 20 million viewer decline from the height of its success.
Famous Guest Stars
A number of famous actors made guest appearances on Roseanne during its initial 9-season run. Some of these celebs included Leonardo DiCaprio, Tobey Maguire, George Clooney, Bob Hope, Wayne Newton, Neil Patrick Harris, Bill Maher, Chris Farley, Sharon Stone, Ellen DeGeneres, Hugh Hefner, Jerry Springer, Steven Seagal, and many others.
Behind The Scenes Conflicts
Despite the show's enormous popularity and ability to attract big-name stars, there were some behind the scenes conflicts starting with the first season. Barr did not get along very well with one of the show's head writers, Matt Williams. Williams was a successful TV writer and producer but Barr didn't like the amount of authority he had on the show.
A Battle With A Writer
Barr became so furious with some of Williams' writing and direction on the show that she refused to say certain lines and, one day, even walked off the set. Barr demanded that Williams be fired or else she would quit the show entirely. The network eventually gave in to her demands and Williams left the show after the thirteenth episode. Williams would go on to create the hit show Home Improvement.
Hiring New Writers
Barr seemed to have an eye for talented writers. She hired both Joss Whedon and Amy Sherman-Palladino to work on her show. Whedon would go on to create Buffy the Vampire Slayer, and direct two of Marvel's Avengers films. Sherman-Palladino went on to create the shows Gilmore Girls and The Marvelous Mrs. Maisel.
A Controversial Hire
Barr also tried to again hire Tom Arnold onto the show. This time, she wanted him to join the writing staff. Perhaps not coincidentally, Barr had recently left her husband and married Arnold. Arnold was indeed hired to be a writer, but the rest of the show's staff apparently thought he had no talent.
A Fight With Seinfeld
Reportedly, Tom Arnold caused some issues with the cast and crew of the show Seinfeld. Seinfeld cast member Julia Louis-Dreyfus apparently parked accidentally in Arnold's parking spot on the studio lot. Arnold wrote an expletive-filled note and left it on her car. Some members of the Seinfeld cast and crew confronted Arnold over the note.
Writers Fighting
The addition of Arnold to the show's staff arguably caused more conflict on set, as Arnold was fiercely loyal to Barr. This resulted in him sometimes fighting with other writers over creative choices. At one point, Arnold allegedly told another writer that the set was not a democracy, but rather a "Queendom," with Barr being the show's queen.
Numbers, Not Names
At one point during the show's production, Barr decided to refer to her writers only by numbers and not by their names. Writer Amy Sherman-Palladino was called "number two." Sherman-Palladino would later say that the writer didn't think being called numbers was funny and felt that their worth was being diminished.
A Bold Story Cut From The Show
Joss Whedon, then a staff writer on Roseanne, wrote an episode entitled "Little Sister." Originally, the episode was to feature the character Jackie getting an abortion after she becomes pregnant. But the producers decided to change the storyline so that Jackie suffered a miscarriage instead. Whedon was heartbroken over the change.
A Controversial Kiss
In one episode of Roseanne, Roseanne goes to a gay bar, where she is kissed by a woman. The network was concerned about how audiences would react to the scene and decided to include a parental warning before the episode. Despite this, the network would later admit that most calls they received about the scene were positive.
Fighting With Scissors
Barr apparently had some disagreements with the show's wardrobe choices. Barr was intent on her character wearing plaid shirts, t-shirts, and jeans. When a producer instructed the wardrobe master to select clothes that Barr didn't like, Barr allegedly took a pair of scissors to the producer's office and (jokingly) threatened to cut her.
Threats Of A Firing
Barr was reportedly warned several times that she would be fired from her own show if she did not behave in a way that made the network and producers happy. This resulted in a feud between Barr and the producers. Apparently, George Clooney took Barr's side in the feud while he was a guest star on the show.
Getting Rich
The show's tremendous success allowed Barr to negotiate for increasingly bigger contracts. By the end of the show's initial run, she was earning $40 million for two seasons of work. This made her the second-highest paid woman in all of Hollywood at the time, second only to Oprah Winfrey.
A Divorce
Barr and Tom Arnold's marriage began to suffer and the couple ultimately divorced in between seasons six and seven. Arnold left the show entirely, having been involved as both a writer and actor. The exes have had a bit of a rocky relationship ever since, with Arnold allegedly playing a role in Barr's firing from the show's tenth season revival.
Sister Problems
Barr's sister Geraldine was initially Barr's manager early in her career. But the sisters had a falling out, in part due to conflicts between Geraldine and Barr's then-husband Tom Arnold. At one point, Gerladine filed a $70 million breach of contract lawsuit against Barr, but the suit was thrown out of court due to the expiration of the statute of limitations.
Ending The Show
As the show continued airing, the ratings slowly but surely began to decline. Barr began to consider when she would end the show. At one point, she decided to end the show with the eighth season but later changed her mind and decided to come back for season nine.
A Shocking Ending
The show ended in shocking fashion. The final episode revealed that everything that happened during the ninth season was a fantasy created by Roseanne. It turned out that Roseanne's husband had died of a heart attack and creating a fantasy was her way of dealing with the grief of this loss.
A Potential Spin-Off
Even as she was planning to end the show, Barr was also considering a spin-off series that would continue to follow her character. This spin-off series would star the same Roseanne character but place her with different supporting characters in a different setting. For a while, it seemed like the spin-off would air on a different network. But negotiations for the spin-off eventually failed, and the show was never produced.
The Final Episode (For Now)
The final episode of Roseanne aired on May 20, 1997. The show was still popular but nowhere near as successful as it had been in its early seasons. Despite choosing to end the show and no longer play her Roseanne character, Barr remained in show business and launched an entirely new TV project: The Roseanne Show.
A New Talk Show
The Roseanne Show was a syndicated daytime talk show hosted by Barr. Despite featuring a number of prominent guests, the show never quite took off and was canceled in 2000 after two seasons. Barr would spend the next 18 years involved in a variety of projects, including reality shows, stand up specials, and radio shows.
A Failed Project
At one point, around 2012, Roseanne Barr and John Goodman were set to reunite for a new show called Downwardly Mobile. This new show would be about two new characters who work in a mobile home trailer park. Barr would've played the owner of the park and Goodman would've been one of her employees. Ultimately, the network decided not to make the show.
The Revival
After a long time away from her iconic character, Barr decided to make an attempt to revive Roseanne. In 2018, the show returned for a tenth season to big ratings. But the revamped version of the show would soon fall apart after a series of controversies concerning Barr's political views.
Controversy
In May of 2019, Barr sent out a tweet that seemed to imply that African-American political figure Valerie Jarrett was related to "apes." The tweet was widely seen as racist and quickly condemned by producers and stars of Roseanne. As controversy over the tweet grew, the network decided to fire Barr.
Warning Signs
The firing and decision to cancel Roseanne despite the strong ratings of the tenth season may not have been all that surprising. Executives at the network had been concerned about Barr's political commentary online, which seemed to endorse several conspiracy theories about prominent liberal and Democratic Party political figures.
The Show Is Removed From Streaming
Barr's remarks caused such a stir that the streaming service Hulu decided to remove Roseanne from its platform entirely. TV networks such as Paramount and CMT also decided to take the show off the air. Barr tried to apologize for her comments and explained that they were intended to be a joke, but it didn't help.
A New Show
Considering the popularity of Roseanne, the network was eager to figure out a way to keep the show going but without Barr's involvement. Ultimately, they decided to create a spin-off series called The Conners that would focus on Roseanne's family but not include Roseanne herself. The show premiered in 2018 and is still on the air as of 2023.
Rewriting History
The Conners ignores a number of storylines from the original Roseanne series, including Jackie's marriage to Fred, the birth of Jackie's son Andy, the birth of Roseanne and Dan's fourth child Jerry, and nearly everything that happened during Roseanne's final season. The decision to ignore much of the original series has caused some controversy among long-time fans.
An Unexpected Presidential Campaign
Barr's career following the end of Roseanne has been an unusual and controversial one. Among her more unorthodox decisions was to run for President of the United States in 2012. Barr ran for the Green Party nomination, but ultimately finished in second place. She then became the Peace and Freedom Party's nominee for president.
Roseanne's Documentary
Roseanne's presidential run was chronicled in the 2015 documentary Roseanne for President! Some believed that the filming of her campaign meant that Barr was never serious about running for president, although she has insisted that's not true. The film premiered at the 2015 Tribeca Film Festival and was awarded the Founders Prize at the Traverse City Film Festival.