Quentin Tarantino casts many of the same actors in his films, but there are occasions when a new face will sneak in there. Whether the actors appeared as part of Tarantino's recurring stable or they were in only one of his movies, here are the 25 best performances in all of QT's oeuvre...
25. David Carradine as Bill in 'Kill Bill'
Aside from his initial terribleness, Bill begins to resonate with the audience. David Carradine does a good job at making Bill into the character you kind of hope makes it and question why the Bride really went through all of that trouble to kill him. No, it isn't the best performance in a Tarantino film, but it is still well done.
24. Jamie Foxx as Django in 'Django Unchained'
Talk about a character that develops. The movie intended to encompass Jamie Foxx's character, Django, and his journey to rescue his wife, the growth within the film is astounding. This performance might not be incredibly high on the list, but it is on here because it does matter and it was enlightening to experience.
23. Samuel L. Jackson as Ordell Robbie in 'Jackie Brown'
Samuel L. Jackson portrays an overly ambitious and slightly arrogant arms-dealer that, quite frankly, gets what's coming to him. His performance of Ordell Robbie is incredible and unlike other roles he plays in Tarantino films, which is refreshing to experience.
22. Bridget Fonda as Melanie Ralston in 'Jackie Brown'
This film is filled with subtle gems. Bridget Fonda's character Melanie Ralston is one of those gems. Her spark is shown later, but it is incredible. The transition in Ralston's personality makes Fonda's performance great. She's engaging enough to agree with but not root for.
21. Maria de Medeiros as Fabienne in 'Pulp Fiction'
Maria de Medeiros embodies naivety and innocence in "Pulp Fiction" through Fabienne. She is a direct juxtaposition of Bruce Willis' character, Coolidge. Her character represents a softer side of femininity that differs from the strong female presence Tarantino films tend to have. Fabienne just wants some blueberry pancakes. And so do we.
20. John Travolta as Vincent Vega in 'Pulp Fiction'
John Travolta has played amazing roles before, but the depth of Vincent Vega is what really draws an audience to this character in particular. Travolta plays the role of a morally troubled hitman responsible for the safety of his boss' wife incredibly well. We will always remember the "dance good" scene in "Pulp Fiction" and so we will always remember Vega.
19. Samuel L. Jackson as Major Marquis Warren in 'The Hateful Eight'
Quite the veteran when it comes to Tarantino films, Samuel L. Jackson is inevitable to show up in this list more than once. The great thing about Major Marquis Warren is his attitude, his confidence, and his awareness. Although not all of these traits keep him at an advantage, they do give Warren a leg up, so to speak.
18. Daryl Hannah as Elle Driver in 'Kill Bill'
Daryl Hannah's portrayal of the second most important antagonist in "Kill Bill," Elle Driver, is spot on. There's this constant need she has to prove herself that flawlessly bounces off the screen. If she hadn't been a key instrument in keeping the Bride in a coma, then it'd be easier to relate to this one-eyed assassin's background story.
17. Jennifer Jason Leigh as Daisy Domergue in 'The Hateful Eight'
Probably least expected, but such a great character. Jennifer Jason Leigh portrays the part of the felon in question, Daisy Domergue, excellently. Even in chains, there is no filter on her mind or her personality. Her initial condition in the film make the turn of events incredibly to witness. Oh, and let's not forget that tune she plays on the guitar. Turning point.
16. Bruce Willis as Butch Coolidge in 'Pulp Fiction'
Butch Coolidge appears as a seemingly average character, but after learning the demons that haunt this aging boxer, we discover depth. Bruce Willis bounced back with this performance with its complexity and grit. A semi-retired boxer throws a match for a bribe and then double-crosses the suborner? Yes, please.
15. Walton Goggins as Sheriff Chris Mannix in 'The Hateful Eight'
One of the more annoying characters in a Tarantino film, but one that plays a huge role. Walton Goggins' portrayal of Sheriff Chris Mannix has got to be one of the best characters in this particular film. The most astounding part is the lack of complexity of this character in a movie filled with twists and turns. He's honest and slightly obnoxious and Walton Goggins did that.
14. Steve Buscemi as Mr. Pink in 'Reservoir Dogs'
The one that disappeared. There's no real explanation for how someone so incredibly unlikable, like Steve Buscemi's character Mr. Pink, survives the fall of the heist. But he does. Right from the beginning, there's an understanding that Mr. Pink is not meant to be liked, but also not meant to be mistaken as a fool.
13. Robert Forster as Max Cherry in 'Jackie Brown'
Bondsman-turned-love-interest-turned-the-one-who-got-away, Max Cherry is an invaluable character in "Jackie Brown." Robert Forster is astounding in his portrayal of a self-aware man hopelessly in love with a siren. Tip-toeing the line of right and wrong for the sake of sanity and love, Max Cherry is meant to exude both sides of the line, and Forster strikes that balance.
12. Leonardo DiCaprio as Calvin Candie in 'Django Unchained'
More than just a character. Leonardo DiCaprio portrays Calvin Candie like some kind of missing personality he had forgotten about. Needless to say, DiCaprio's performance of this slave owning "business man" is more than believable, it sears itself into the mind.
11. Chiaki Kuriyama as Gogo Yubari in 'Kill Bill'
Honestly, Chiaki Kuriyama is the reason you rewatch the fight scenes. The angst and anger Gogo Yubari holds makes her into a firecracker that explains why she's the right-hand to Queen of the Underground, O-Ren Ishii.
10. Robert De Niro as Louis Gara in 'Jackie Brown'
Initially appearing as a supporting character with little to add to the plot, the turnaround in Robert De Niro's character, Louis Gara, is what makes his performance incredible. Not only does he turn out to add more to the story than first imagined, De Niro displays how crucial he can be to a film without having a million lines.
9. Mélanie Laurent as Shosanna Dreyfus in 'Inglourious Basterds'
Not enough good things can be said about Mélanie Laurent. Portraying the character of a Parisian cinema owner who wants to take down Nazi leaders during a Nazi-occupied France, Laurent devises her own plan independent of the Basterds. Dreyfus does the necessary research and dives head-first into danger to correct the wrongdoings of the Nazis. Cunning yet selfless, Laurent's performance strikes something deep inside you.
8. Tim Roth as Mr. Orange in 'Reservoir Dogs'
Undercover cop in a group of criminals: What could possibly go wrong? Well, just about everything. Tim Roth plays the role of an infiltrator quite well. In reality, he played two roles: within the movie and within the band of criminals. In the end, his characters mesh enough to create a little mystery as to which one will make it out alive...
7. Channing Tatum as Jody Domergue in 'The Hateful Eight'
So his sister is a criminal. Big whoop. So is he, apparently. A step away from roles we usually see Channing Tatum slip into, he portrays Jody with brilliance. The confusion and complexity of this period piece begins to wane once Tatum's character is introduced. The movie begins to make sense. Talk about making an impact.
6. Uma Thurman as Mia Wallace in 'Pulp Fiction'
Coked-out and dancing in diners with strangers, Mia Wallace is a bit of a mess. Uma Thurman does a complete 180 when portraying Wallace. There's a lack of composure and a hint of mystery that comes with this character, and Thurman nails it while the stories of other characters within the movie develop around her.
5. Lucy Liu as O-Ren Ishii in 'Kill Bill'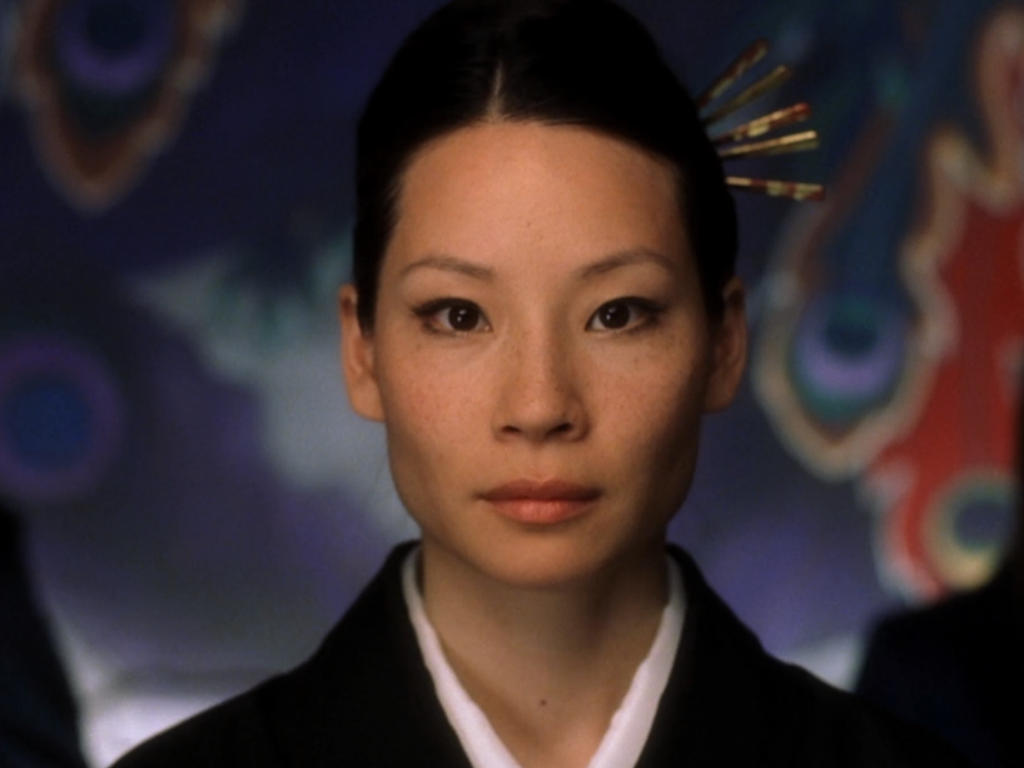 Far from her "Charlie's Angels" days, Lucy Liu envelops herself in the character of O-Ren Ishii with ferocity. Tarantino might not have meant for the character to become so relatable, maybe even more so than the Bride, but she is. Liu takes on the character of the Queen of the Tokyo Underground with such reverence that we wonder where her spinoff is.
4. Christoph Waltz as Hans Landa in 'Inglourious Basterds'
Villains are rarely played so well. Christoph Waltz not only embodies the Jew Hunter, he makes disliking him so easy. There isn't a moment where you hope something good happens to Hans Landa, and that's the beauty of Waltz. Through and through, he remains the villain nobody can stand.
3. Pam Grier as Jackie Brown in 'Jackie Brown'
The ultimate femme fatale in this film is Ms. Jackie Brown. Pam Grier has just about every male character wrapped around her finger. Pulling a fast one over an arms dealer is no easy feat. Pam Grier makes the act of double-crossing look effortless and maybe not such a terrible idea.
2. Uma Thurman as the Bride in 'Kill Bill'
One of many great performances by Uma Thurman, the Bride is a former assassin who takes it upon herself to kill the man who left her in a four-year coma. Everything about this film is vengeful and violent, but there's something about Uma Thurman that makes you understand why she comes out of retirement. And you admire her resilience.
1. Samuel L. Jackson as Jules Winnfield in 'Pulp Fiction'
Jules Winnfield is one of the most iconic characters Quentin Tarantino has come up with besides the infamous Mia Wallace. Once a ruthless hitman following orders, he begins to question his life decisions after getting caught in the middle of a diner robbery gone bad. Many would debate this being a groundbreaking role for Samuel L. Jackson, but we all know that Bible verse was the groundbreaking quote.