Disney's animated movies go through a lot of changes during development, and sometimes they become entirely different films than the ones that animators set out to make. Taking out or reworking a single scene can completely change the film's story. Here are some of Disney's deleted scenes that would have made for very different films if they'd been left in the movies.
"Frozen" - Evil Elsa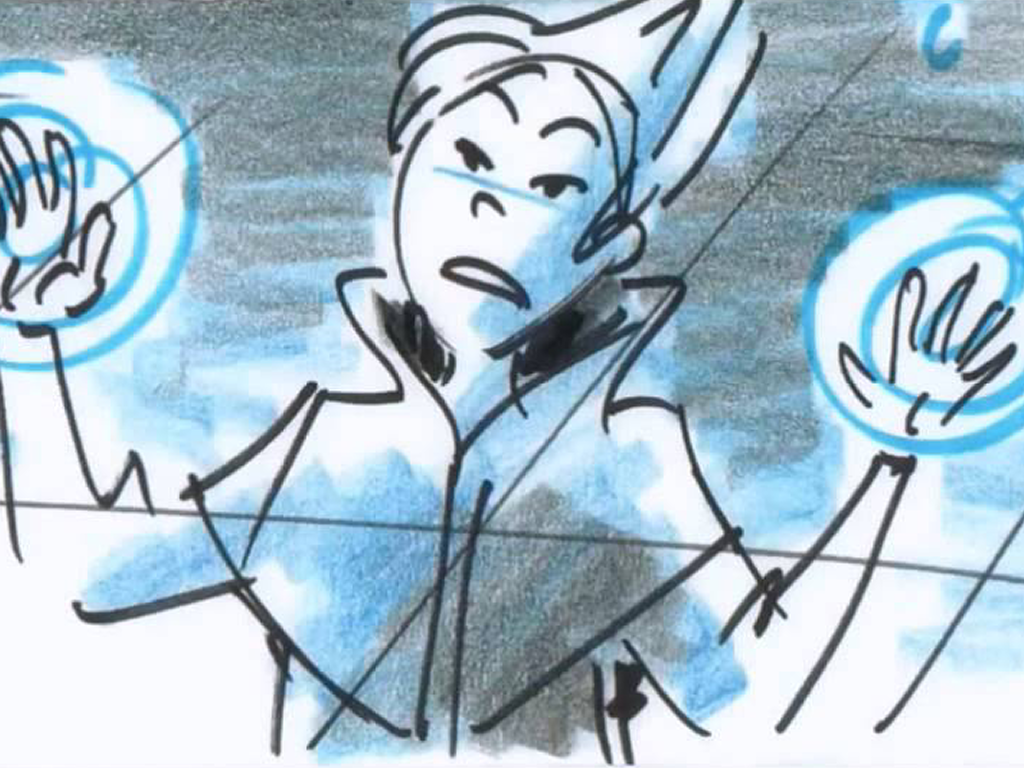 "Frozen" is based on the old fairy tale called "The Snow Queen." When the movie was initially planned, Anna and Prince Hans (who was called Admiral Westergaard at the time) were the heroes, and Elsa, true to the original fairy tale, was a villain. A deleted scene from the movie shows Elsa creating an army of snowmen. It was only later that the film was reworked and Elsa became a sympathetic character, making this scene unnecessary.
"The Incredibles" - Syndrome's Early Death
In the first draft of "The Incredibles," Syndrome played the role of Bomb Voyage; a secondary villain who was defeated in the prologue. In this deleted scene, Syndrome sneaks into Bob and Ellen's house and uses his technology to destroy their home. He was a far more compelling character than the movie's intended villain, so he eventually got bumped up to main antagonist.
"Zootopia" - The Shock Collar
There's a deleted scene from "Zootopia" in which the rascally Nick Wilde is fitted with a shock collar that punishes him for getting angry or excited. This causes him to slump into a deep depression, for obvious reasons. Thankfully, this was cut from the final film, because it's pretty heavy for a family film.
"Moana" - Moana's Brothers
In an early draft of "Moana," worked on by "Thor: Ragnarok" and "Jojo Rabbit" director Taika Waititi, Moana had six brothers and had to prove herself worthy to be the heir to the role of chief. This was cut as the movie was reworked in order to streamline the plot, and give Moana a stronger relationship to her parents.
"Lilo & Stitch" - Stitch Hijacks a Plane
The original ending to "Lilo & Stitch" exists only in grainy footage, and shows Stitch and company hijacking a plane and flying it through a crowded metropolitan Honolulu. At one point they had to swerve to avoid hitting a skyscraper. "Lilo & Stitch" was in development in 2001, and following the attacks on the World Trade Center in New York, this scene was significantly reworked.
"The Emperor's New Groove" - The Princess' New Groove
"The Emperor's New Groove" changed multiple times during its development. At one point, it was a fairly serious movie titled "Kingdom of the Sun" and was a riff on Mark Twain's "The Prince and the Pauper." In this iteration, while the emperor had been turned into a llama, a peasant who looked exactly like him took his place in the palace and fell in love with a princess who was set to be the new empress.
"Beauty and the Beast" - Human Again
In an early version of "Beauty and the Beast," all of the servants in the palace dreamt about what it would be like to turn back into human beings, in a segment called "Human Again." A song from this lengthy deleted scene was eventually added back into the special edition of the movie, but this was only part of the cut material.
"Cars" - The Car Graveyard
In one very dark deleted scene in "Cars," Lightning McQueen discovered a graveyard where cars were left to rust out in the open. It's a chilling scene and somewhat spoils the tone of an upbeat family movie, plus it raises more questions than it answers with regards to the workings of the "Cars" universe.
"Toy Story" - Woody is the Bad Guy
The infamous "Black Friday Reel" for the original "Toy Story" film shows us what this movie could have been at one point in its development. In this scene, Woody is a terrifying evil ventriloquist doll who tricks Buzz into injuring himself to win Andy's love. Thankfully, at some point in the development process, Woody became a hero instead of a villain, and the movie became far less nightmarish.
"The Black Cauldron" - Army of the Dead
The '80s were a difficult time for Disney, as the company threw everything it had at the wall to see what stuck. "The Black Cauldron" was originally a kind of animated gothic horror movie, with a lot of very gruesome deaths. Test audiences didn't exactly love this direction for the film, so a lot of really scary stuff was culled, but it wasn't enough to save the overly dark and depressing movie.
"Tarzan" - The Death of Tarzan's Parents
While watching "Tarzan," you might notice a slight jump from the titular character's parents building a home, to some point after their gory death. A deleted scene would have shown their demise in more explicit detail as they tried unsuccessfully to fight off a leopard. The movie probably didn't need this, as it would have made for a hard tonal shift to go from violent death to the beautiful "You'll be in My Heart" song.
"Toy Story 3" - A Trip to Taiwan
Sometimes, entire movies get deleted. The original "Toy Story 3" was put into production before Disney bought Pixar, and involved the toys travelling to Taiwan when Buzz develops a fault and has to be sent back to his manufacturer. Once Disney purchased Pixar, this film was scrapped and replaced with the heartbreaking "Toy Story 3" that made grown adults sob like babies in the theater.
"Mulan" - Shan Yu Commits a War Crime
In "Mulan," audiences see some of the aftermath that Shan Yu's Hun army leave in their wake, with a village ransacked and burned to the ground following their attack. In a deleted scene, this massacre would have been shown in detail, including a moment when Shan Yu kills one of his own men for daring to show mercy to a villager.
"Frozen 2" - Elsa's Watery Parents
"Frozen 2" spends a lot of time fleshing out details about Elsa and Anna's parents, making them more than just two-dimensional bad parents who teach their daughter to bottle up her emotions. In a deleted scene, we'd have received further proof that King Agnar and Queen Iduna aren't really bad at parenting, as Elsa's powers create a water memory showing the pair discussing whether it's the right time to end Elsa's isolation and tell Anna the truth about her sister.
"Fantasia" - "Flight of the Valkyries"
Back when Disney thought that "Fantasia" was going to be an ongoing big hit (instead of the one-off costly flop that it ultimately became), animators prepped out a scene based on Richard Wagner's iconic "Flight of the Valkyries" composition. This was ultimately canned because Walt Disney was afraid of its connotations— Wagner was a horrible racist, and "Flight of the Valkyries" not only appears in the deeply offensive movie "Birth of a Nation" as the theme of the KKK, but was also synonymous with Nazi propaganda. Probably best to leave this scene on the cutting room floor.
"Lilo & Stitch" - Pudge Dies
In a particularly depressing deleted scene from "Lilo & Stitch," Lilo introduces Stitch to Pudge the fish, her other best friend (seen at the start of the movie eating a peanut butter sandwich). Due to Stitch's hesitation to kiss a fish, Pudge is mobbed by seagulls and dies, so Lilo buries him next to her parents' graves. This was probably deleted because it would be the most depressing thing in a movie that's already about a custody battle.
"Robin Hood" - Robin Hood's Final Battle
In the original ending for "Robin Hood," the titular fox is injured during his escape from Prince John's castle. As he lays, struggling to stay alive, King Richard returns to save the day. This ending would have perhaps given "Robin Hood" a little more drama in its final act, as the finished film just sort of ends without much tension.
"Pinocchio" - Geppetto is Hungry
"Pinocchio" is a terrifying film with some absolutely horrific moments (such as the point where a human child is transformed into a donkey to serve in endless slavery inside the depths of a mine). One such scene that was deleted involved Geppetto in the belly of the whale, contemplating eating his pet fish. Harsh.
"Finding Dory" - Dory Saves Her Friends
Originally, the ending of "Finding Dory" simply involved the film's star finding her parents and returning to the ocean. After the team behind the movie watched a documentary on life in marine research stations, they decided they wanted to rescue all of Dory's friends rather than leave them to a depressing existence in tanks, so the movie's ending was changed.
"WALL-E" - Eve Dies
Right up until shortly before its release, the end of "WALL-E" involved Eve getting seriously injured, and WALL-E rushing to save her life by returning to Earth. This version of the movie was completed, but at the last minute, feedback from test audiences convinced the film's creators to flip the finale so that WALL-E was injured instead. The result is a much stronger scene, as a broken WALL-E remembers what makes him special.
"Frozen" - Anna Borrows Elsa's Dress
One deleted scene from "Frozen" involves Anna raiding Elsa's closet to find a dress to wear to her coronation. This cute scene shows the two sisters behaving like normal siblings, laughing and joking, and plays off Elsa's fear of human contact as a mere aversion rather than a trigger for ice magic. This scene was cut to try and make the sisters' relationship far more fractured.
"The Lion King" - Scar Needs to Mate
"The Madness of King Scar" is a song that was deleted from "The Lion King," in which Scar attempts to convince Nala to mate with him. Originally, Nala was banished from the Pride Lands for refusing to give in to Scar's advances. The Broadway musical still makes use of this creepy, creepy song.
"The Little Mermaid" - Ursula Dies Hard
The climax to "The Little Mermaid" was a lot smaller in scale than the one in the finished film. In the original, Ursula grows a little in size and holds Eric underwater until he manages to spear her with a trident. Disney head Jeffery Katzenberg thought this ending was too small, and encouraged the team to do something more like "Die Hard," hence the giant, overblown ending in the final film.
"Aladdin" - "Proud of Your Boy"
In an early version of "Aladdin," everyone's favorite street rat is not an orphan, and has a loving mother to support. In the deleted song, "Proud of Your Boy," Aladdin sings about wanting to finally impress his mom rather than always being a disappointment. This was an emotional song, and the creative team behind the movie loved it, but it had to be cut to streamline the plot.
"Dumbo" - Why Elephants Fear Mice
"Dumbo" is a really weird movie from start to finish. One scene that would have made it even weirder involved Timothy Mouse telling a tall tale about why elephants are afraid of mice. From the sounds of it, this scene would have been just as abstract and terrifying as the infamous "Pink Elephants" scene, so it's for the best that this didn't make it into the final movie.