In December 2006, a 22-year-old Irish woman, Gráinne Kealy lost her forehead and broke every bone in her face when the jeep she was traveling in skid on black ice and hit a wall. Although the collision was serious, it was the position that Gráinne was sitting in that left the young woman with the most horrific head injury.
Driving Home for Christmas
Gráinne Kealy was a passenger in her then-boyfriend's SUV when they were on a three hour drive from Galway, Ireland to her hometown for Christmas. The cold December temperatures caused the roads to freeze, creating a dangerous layer of black ice that is completely invisible to drivers.
The Couple Crashed Into a Wall
Driving in a 50mph zone, Gráinne's boyfriend was overtaking another car when he hit a patch of black ice and their SUV collided with a wall at a speed of only 37mph. The speed of the jeep wasn't the cause of the woman's severe head injury, but instead it was the way she was sitting.
Learn From This Woman's Mistake
Kealy did not anticipate how dangerous the position she was sitting in was until it was too late. The scary fact is, many people relax in this exact same comfy position when traveling as a passenger, oblivious to the serious risks it has.
Many Car Passengers Sit Like This, Do You?
The 22-year-old was sitting in the passenger seat of her boyfriend's 4x4 with her feet resting on the dashboard during their long journey home. When they skidded on ice and hit a wall at 37mph, the airbag underneath Gráinne's feet deployed at a rapid speed of 200mph.
She Broke Every Bone in Her Face
As Gráinne's legs were stretched out across the dashboard, the blow of the airbag forced her knees into her face at 200mph. Gráinne recalls how, "Normally I wouldn't have had my feet up but I'd just bought new Uggs and the soles were completely clean."
Her Boyfriend Suffered Minor Injuries
Kealy asserts the importance of sitting safely in a car when she thinks of how her then boyfriend broke only his nose while she had broken every bone in her face. "My ex broke his nose in the accident, I broke my face. It puts it in perspective."
She Was Rushed to Hospital
Gráinne was rushed to hospital where she was kept on a ventilator for five days with no recollection of the accident. She remembers waking up and thinking it was September but recalls the nurse saying, "It's the month where the man in the red suit comes" but it just did not click with her who Santa Claus was.
She Didn't Recognize Her Own Face
A week following the accident, the 22-year-old woke up confused and in a state of shock. When she looked in the mirror she jumped back, thinking someone was standing behind her but the truth was she didn't recognize herself. "I remember looking in the mirror for the first time and it was horrific."
She Lost Her Memory
When she finally came round after the accident, Gráinne had lost a great deal of her memory. Still to this day she does not recall certain months surrounding that fateful evening. "I have no memory of the accident, the three months leading up to it or the month following it."
Doctors Told How She Had Broken Every Bone in Her Face
After spending time on a ventilator in one hospital, Kealy was transferred to Galway University Hospital to undergo treatment for her injuries where she was informed by the doctors that she had broken every bone in her face and lost two teeth. Her knees had pushed all her facial bones inwards and upwards and she would need extensive treatment to fix this. But this would only be the beginning of Gráinne's suffering.
She Underwent a 10-and-a Half Hour Facial Reconstructive Surgery
Kealy was then admitted to Beaumont Hospital, Dublin, Ireland for a CAT scan that showed she had a cerebral-spinal-fluid leak from her brain. "It was there that I had my big operation that lasted over 10 hours, it involved three teams of surgeons putting my face back together with metal sheets and bolts."
She Was at Risk of Infection
After her 10-and-a-half hour reconstructive surgery, Kealy was discharged from the hospital soon after her surgery to reduce the risk of her contracting infections that are common in hospitals. However, she was about to learn that her suffering was going to get a whole lot worse as she "found everything so hard to do."
She Contracted a Deadly Infection
Although the surgery was relatively successful, Gráinne was back in hospital the following year where she was diagnosed with the deadly bacteria infection, MRSA. The infection was in her forehead bone which meant she needed to have her forehead removed.
The Infection is Common in Hospitals
MRSA infections are common among people with poor immune systems and are known to infect areas of the body that have undergone surgeries. The infection is most common among those who spend a lot of time in hospitals, therefore it was a risk that Gráinne was exposed to.
She Lived Without a Forehead for Two Years
As a result of contracting MRSA in her forehead, Gráinne had to have her forehead bone removed and she would live without a replacement for two years. "I looked quite strange. Thinking back on it now I don't know how I did it, I just did. I got a lot of strange looks which I completely understood," she recalls.
She Eventually Received Her Own Specially Designed Forehead
It took two years for surgeons to design Gráinne's forehead specifically for her. "Originally it was meant to be titanium. But then one of the neurosurgeons came up with ceramic. This was made in Italy and it was specifically made to fit my head."
She Lives With Acquired Brain Injury
As a result of her destructive facial injuries, a brain leakage and a deadly infection in her forehead, Gráinne suffers from Acquired Brain Injury (ABI) which causes her to feel exhausted and distracted. She still has annual visits to her neurosurgeon and her ENT surgeon.
Passengers Don't Realize the Danger
Most of us are guilty of sitting like Gráinne did, with our feet on the dashboard when we feel like stretching out and relaxing, but the young woman's story really makes you stop and think, "How did I never consider this as a hazard?"
She Fears for Other Passengers
Kealy admits, "I know people are going to think I'm silly for having my feet up there. I think it myself. But it actually scares me how many people don't realize how dangerous it can be."
She Still Undergoes Treatment
13 years later, Gráinne still suffers from the effects of her traumatic head injury. In an interview this year she explained, "My last procedure was a couple of months ago, so I'm still having procedures done this many years later. The only thing I can say to everybody is be careful, it's not worth the risk. Keep your feet on the floor— front and back passengers."
She's Calling Out Celebrities Who Rest Their Feet on the Dash
Since sharing her story with the world, Gráinne has noticed a large amount of celebrities posting photos of themselves resting their feet on the dashboard with zero knowledge of the danger they're putting themselves in.
She Issues Warnings to the Public
Kealy has been persistent in her effort to warn people about the dangers of having your legs up on the dashboard and is concerned for the amount of celebrities publicizing it. In a Facebook post she wrote, "I see passengers with their feet on the dashboard and it breaks my heart. I'm hoping you will pass on this message/warning to everyone you know and hopefully people will understand how dangerous it is."
She's Now a Road Safety Campaigner
Today, Gráinne Kealy conducts talks with teenagers in schools around Ireland on road safety awareness while highlighting the importance of sitting safely in a vehicle. In a recent interview Kealy said, "I thought having a seat belt on was enough. My ex was a careful driver so I never thought anything would happen."
She Has Won Awards for Her Work in Road Safety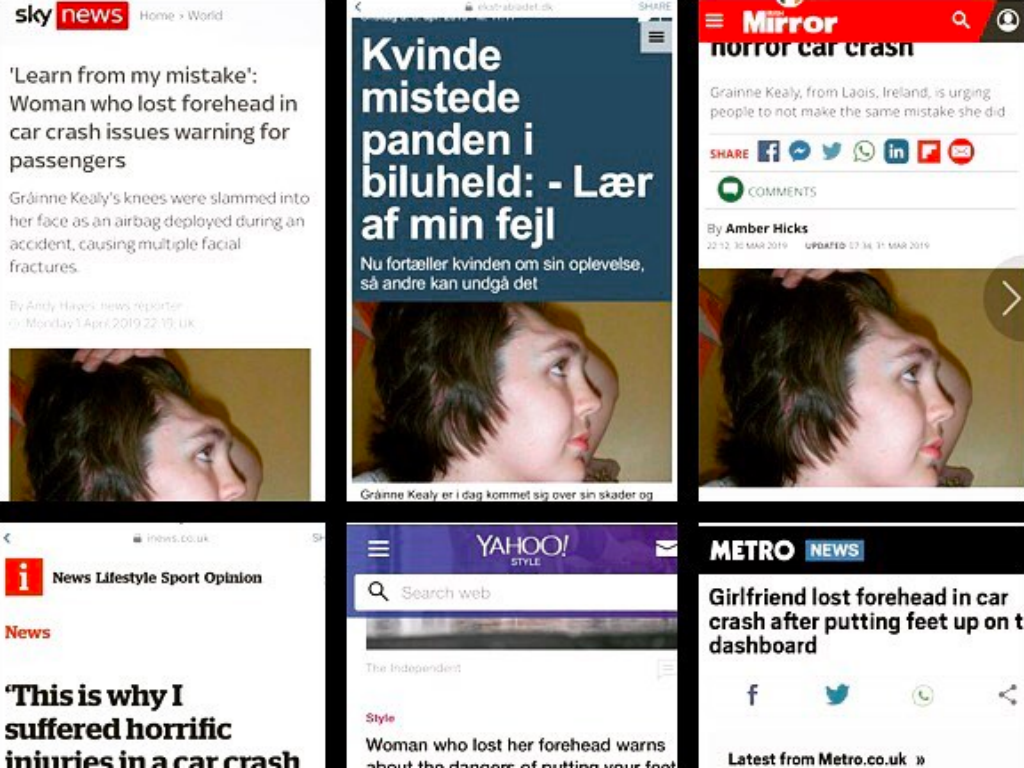 In December 2019, in her outstanding effort to promote road safety, the 35-year-old won two highly esteemed awards for her work with young Irish people on the importance of road safety. At an awards ceremony in Dublin, Ireland she was named Road Safety Champion and also received a Supreme Award in Road Safety.
Her Story Has Been Shared Around the World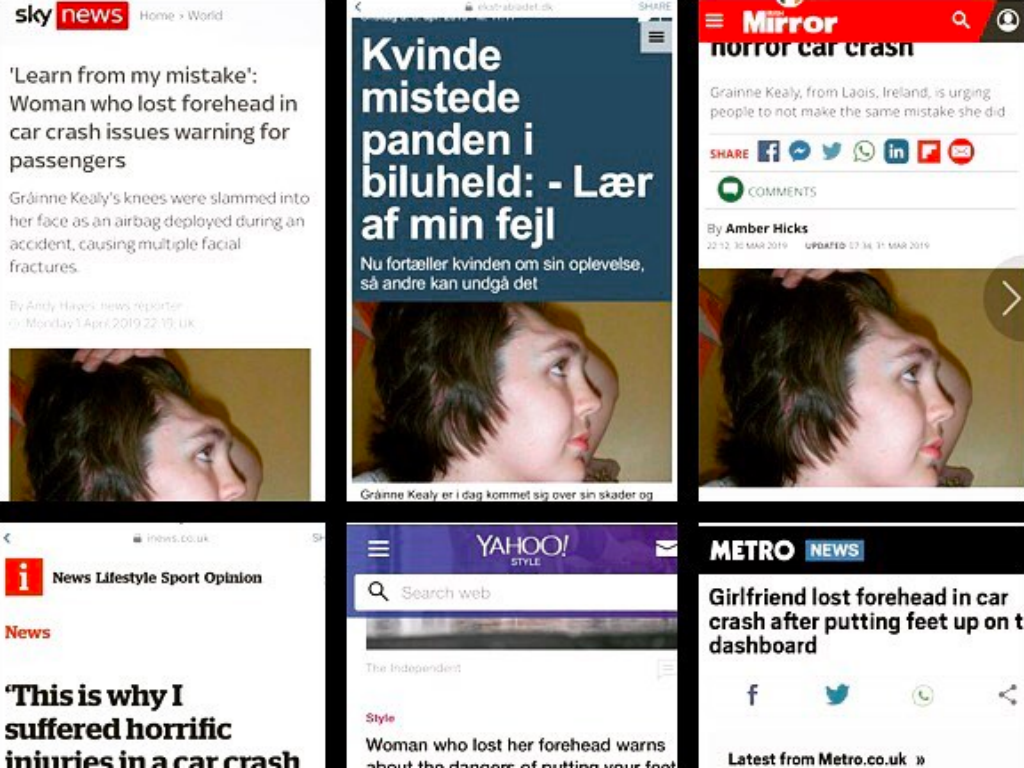 Gráinne Kealy's story of courage and diligence has been shared wide across Europe, Australia, Asia and the U.S. in an effort to highlight the dangers of resting your legs on the dashboard of a vehicle and reminding people to keep their feet down!