The common misconception that vegan foods are tasteless and bland is completely wrong. Some of your favorite snacks have been vegan all along and no one could tell the difference! Feel good buying these snacks that are delicious without causing any harm to animals.

Movie Theater Popcorn
No, that isn't real butter that they're putting on your popcorn. Most movie theaters forgo greasy butter for a liquid known as "butter flavored topping," which is made out of ingredients like partially hydrogenated soybean oil, yellow food coloring, artificial flavorings and preservatives, yum.

Bac'n Pieces
You might think there would be some trace of meat in these bacon pieces, but all of that flavor comes from spices and plenty of liquid smoke. The absence of meat in these bacon bits makes them shelf stable for so much longer than they would be otherwise, so you can always have this salad topper on hand.

Frosting
Many brands of cake frosting, including Betty Crocker's Rich and Creamy Vanilla frosting and most Duncan Hines frosting flavors are so satisfying and completely vegan. Even though they omit the butter and cream in favor of plant based options, these frostings hold up to any buttercream.

Swedish Fish
No fish were harmed in the making of this candy. The gooey texture of these gummy snacks comes primarily from corn syrups and other sugars, making these snacks completely animal byproduct free. You can support animal wellbeing and still chow down on these fish anytime.

Clif Bars
These energy bars are known for being a healthier alternative to other bars because all of their ingredients are organic and vegan. Some flavors may not be considered vegan by everyone's standards because the Peanut Butter and Honey flavor does contain honey, an ingredient which divides many vegans.

Ritz Crackers
These crackers are known for being light and buttery, but surprisingly there is no butter in the ingredients! These crackers get their flavor from various plant based oils and flavorings to give the crackers a longer shelf life. Even the bacon flavored crackers are somehow free from any meat!

Red Bull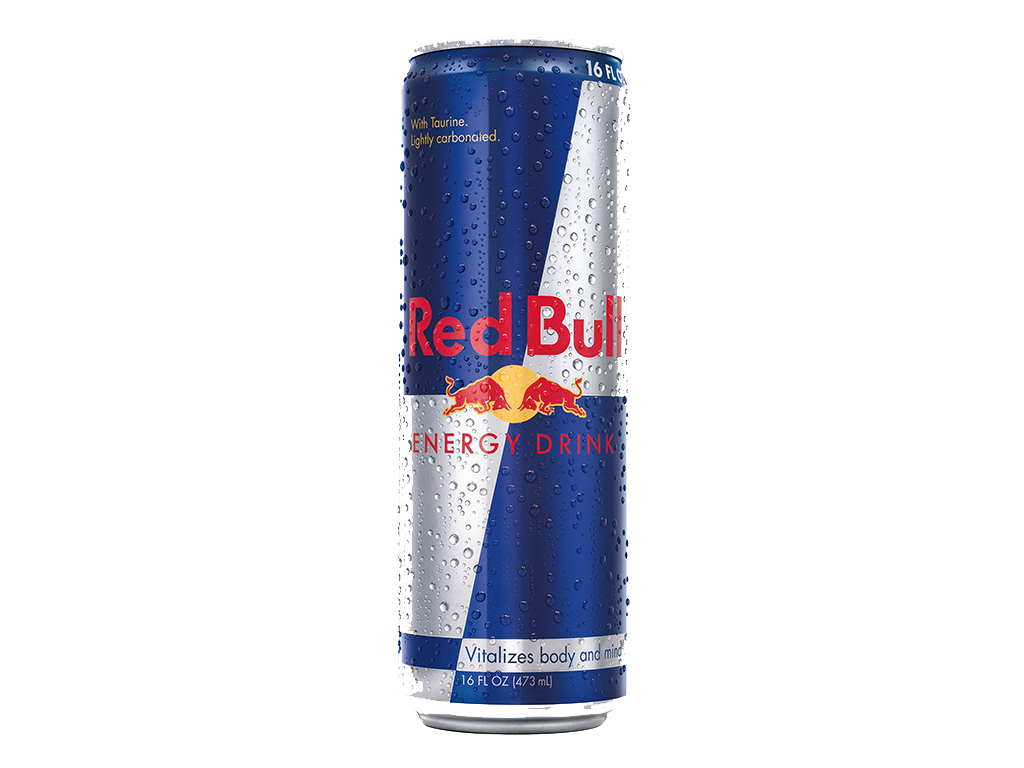 Red Bull gives you wings and doesn't hurt any winged animals in the process!But, vegan ingredients don't always get PETA's support. Because Red Bull's parent company still supports tests on animals, they don't include Red Bull on any of their vegan drink lists.

Sour Patch Kids
Another great choice for vegans with a sweet tooth are Sour Patch Kids. These candies contain no gelatin (which comes from animals) and all of its colorings are plant derived. Of course, just because something is vegan does not mean it's healthy. These candies pack a whopping 24 grams of sugar per serving.

Hershey's Chocolate Syrup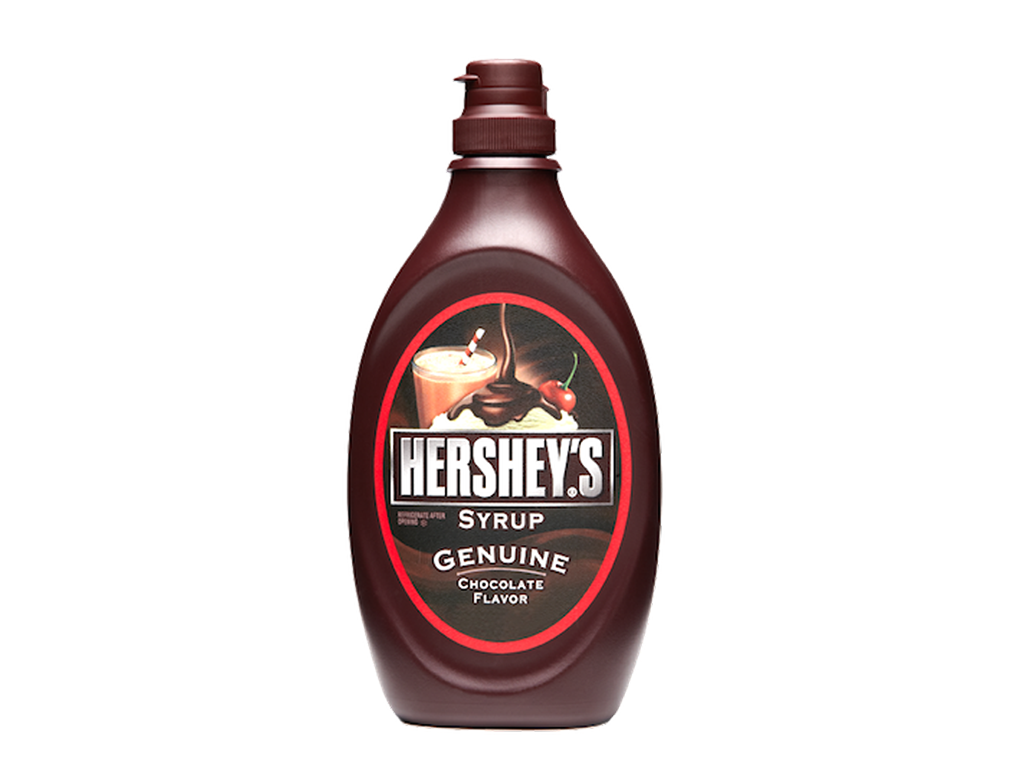 Hershey's Chocolate Syrup is the perfect addition to any sundae, vegan or not. So, vegan ice cream lovers can breathe a sigh of relief. Hershey's Strawberry Flavored Syrup is also vegan, but Hershey's Carmel Syrup is not because it is the only one of the three to contain skim milk.
Smucker's Uncrustables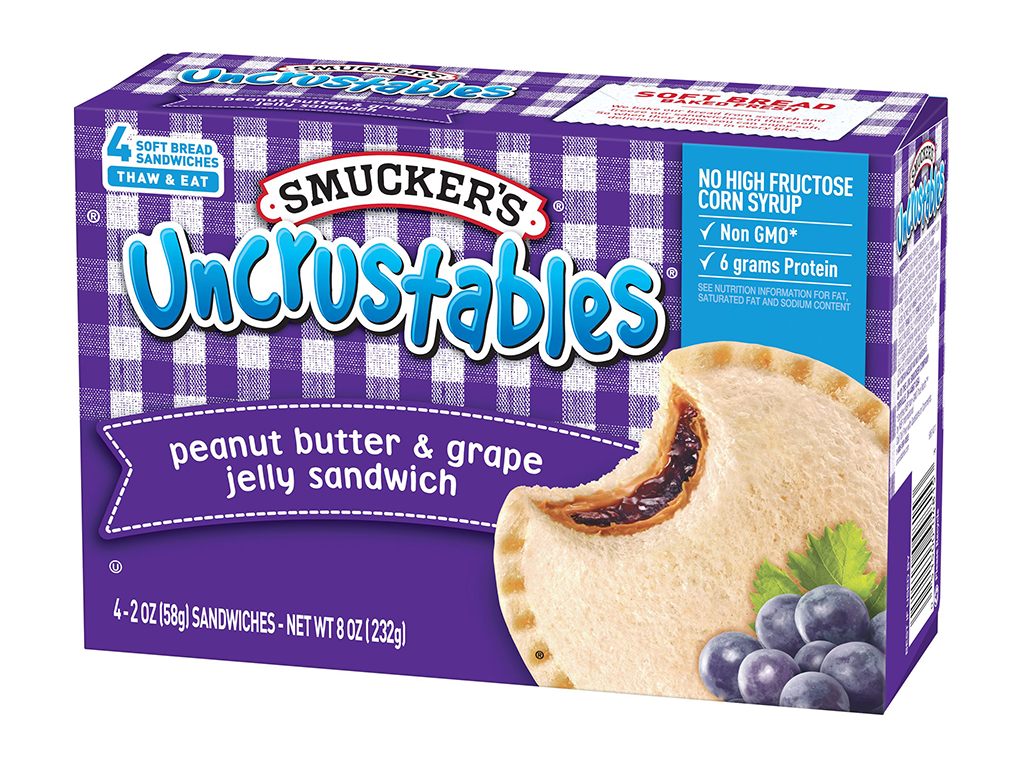 For any vegan families, it's important to have snacks on hand that kids will enjoy, like these classic peanut butter and jelly sandwiches. All of these Smucker's flavors are 100 percent vegan: Peanut Butter & Grape Jelly, Peanut Butter & Raspberry Spread on Whole Wheat and Peanut Butter & Strawberry Jam.
Spicy Sweet Chili Doritos
Sadly, classic Nacho Cheese Doritos and Cool Ranch Doritos are not vegan, but that doesn't mean that you're out of options. The Spicy Sweet Chili flavor is the only vegan Doritos flavor available. But, if you're able to find some plain toasted corn tortilla chips and vegan flavorings, you could have something that rivals the original!
Jello Pudding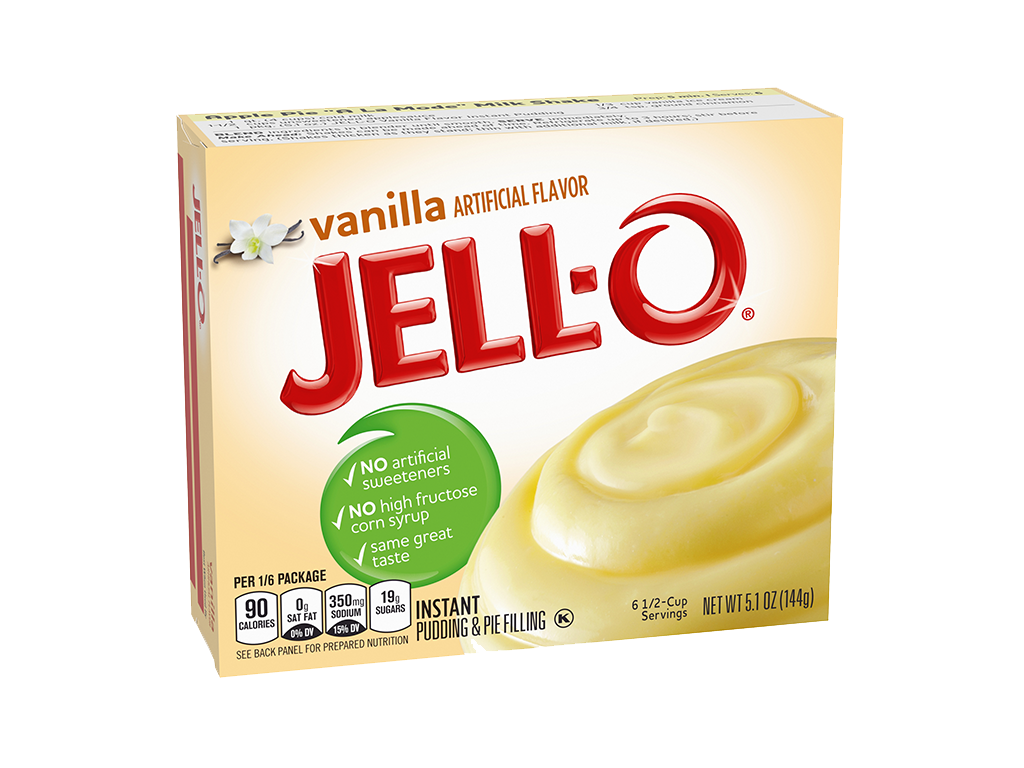 One might assume that all Jello products contain gelatin and that would be wrong. The vanilla, chocolate, lemon, pistachio and banana cream flavors of Jello's instant pudding mix are vegan. To get the same consistency of pudding as using dairy milk, only use half of the listed amount of vegan milk substitute.
Twizzlers
This movie theatre staple isn't only vegan, it's kosher certified too. The best part about Twizzlers is that you can bite off the ends and use them as a straw to make any sugary beverage all the more cavity-inducing. And for anyone who prefers the Red Vines brand, don't worry! They're vegan too.
Pillsbury Crescent Rolls
These flaky kitchen staples use hydrogenated palm oil in place of butter and don't contain any dairy. The downside to using palm oil is that it contains high amounts of trans fats, which is one thing doctors usually say to avoid. So, even though they're delicious, these rolls should definitely be eaten in moderation.
Girl Scout Thin Mints
Just in case you were second guessing your support for a girl scout, you can now rest easy. The current iteration of Thin Mints is vegan, but the Girl Scouts frequently change their cookies recipes, so be on the look out for ingredient changes or more vegan additions to their cookie lineup.
Nutter Butter
Nutter Butter might not have any butter in it, but that hasn't hurt profits. Nutter Butter is called America's best selling peanut butter cookie, with over a billion eaten every year. The CEO of the company that produces Nutter Butters recently revealed that they are giving consideration to adding CBD to their most popular products, including Nutter Butter.
Pop Tarts
Luckily for any vegans who love Pop Tarts, there are flavors available without the iconic frosting, which is the only part of a pop tart where there are any non-vegan ingredients. Flavors that come in the unfrosted variety include strawberry, blueberry and brown sugar cinnamon.
Olive Garden Bread Sticks
Vegans rejoice! There are still chain restaurants that offer surprisingly vegan options, including Olive Garden's signature breadsticks. Pair these perfect, toasty and somehow buttery breadsticks with a salad, and some pasta with tomato sauce and you won't even miss the other menu options.
Campbell's Mushroom Gravy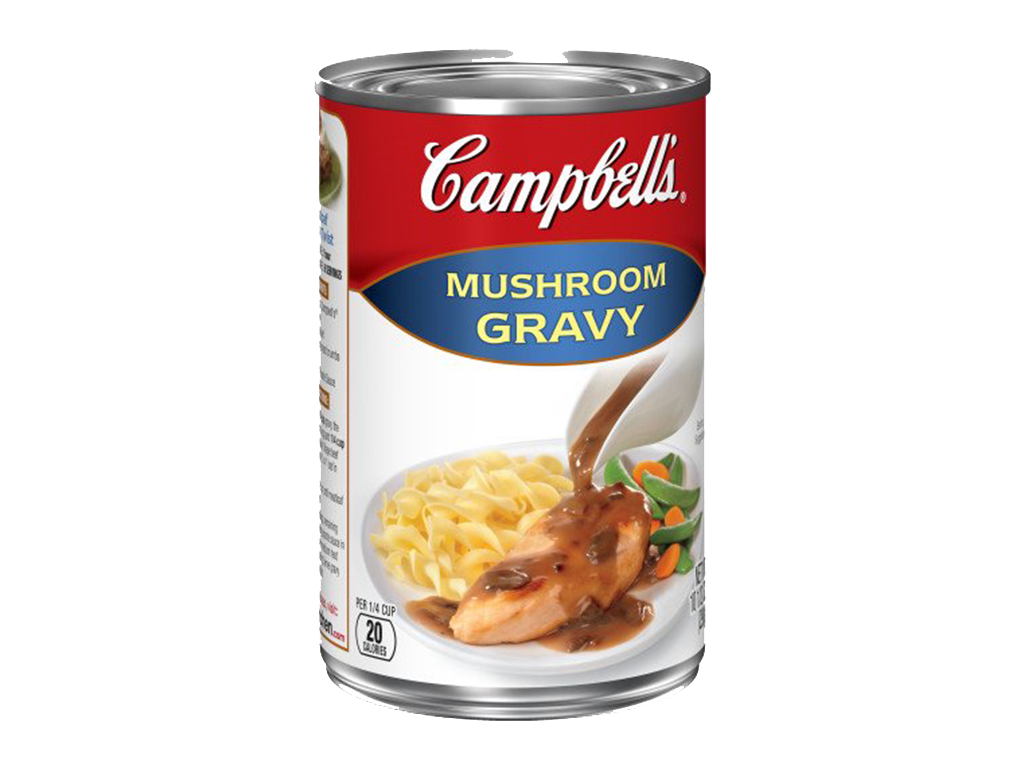 Campbell's Mushroom Gravy is a vegan option for people who are looking for a great tasting gravy. Just find a vegan stuffing and some "tofurkey" to smother with this mushroom gravy and you'll be able to welcome some of your vegan friends to Thanksgiving this year.
Taco Bell Cinnamon Twists
Even late night cravings have vegan options! The crispy, cinnamon sugar coated, fried snacks are simple, light and delicious. While you're at Taco Bell, if you still want something vegan, you can order a bean burrito without cheese or a Crunchwrap with beans and no sour cream.
Smucker's Marshmallow Topping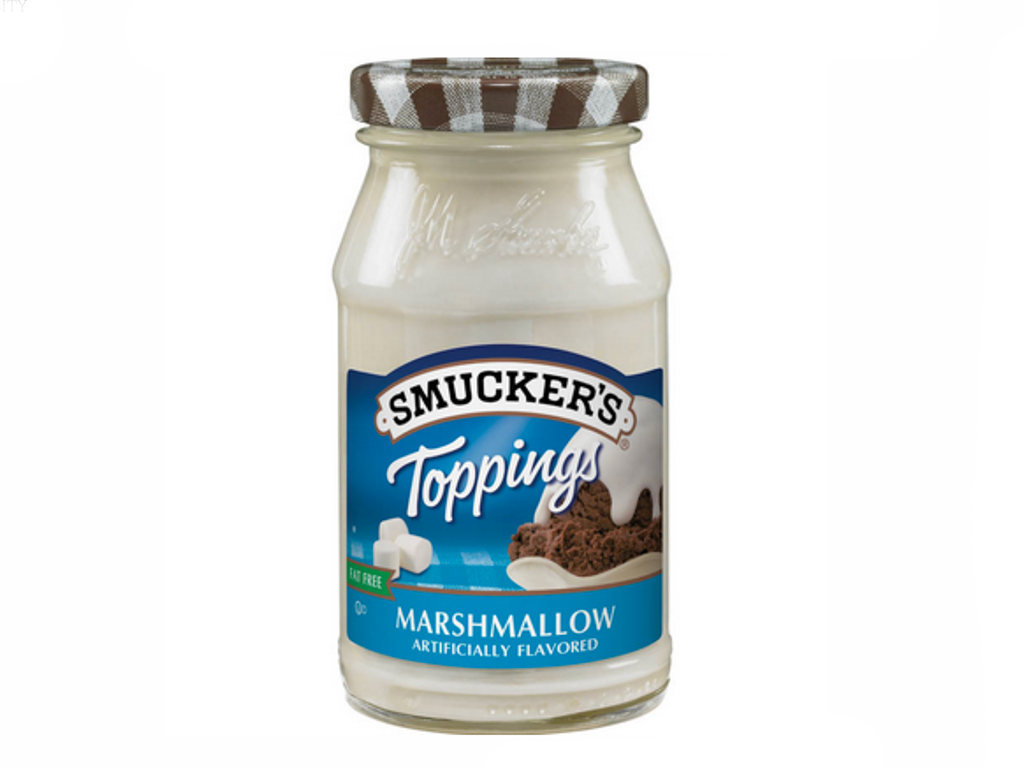 Even though most marshmallow products are made with gelatin, this gooey marshmallow topping is not. Smucker's thickens their marshmallow sauce with cellulose gel, which comes from plants. This topping is perfect for mixing with nuts to put together a rocky road sundae.
Cap'n Crunch Crunch Berries
Okay, so crunch berries may not be real berries, but they are totally vegan. If you just can't stand the taste of real fruit, or there's not enough sugar in other vegan breakfast cereals, the captain has your back. Every variety of Cap'n Crunch cereal except for Sprinkle Doughnut Crunch is vegan.
Fritos
Fritos are crispy, savory and satisfying, and for a while, there was even a Fritos themed restaurant in Disneyland where you could get your fix. The classic original flavor is totally vegan because their creator was a strict vegetarian, but most other flavors of Fritos aren't vegan, so check before you snack.
Oreo Cookies
The Oreo is one of America's most beloved snacks and surprisingly, even the creamy center is made of completely plant based ingredients. Even specialty flavors like Birthday Cake, Mint and Peanut Butter are all completely vegan. Just make sure you're dunking them in a glass of oat milk.

Cracker Jack
Sometimes known as the first junk food, since its beginning in 1896, this classic snack has always been totally vegan. Although the process for making this snack is a trade secret, its ingredients are a mix of sugar, molasses, peanuts, popcorn and salt, which also makes this snack great for people who are gluten free and lactose intolerant.