Acclaimed actor John C. Reilly has a son and he is a bizarre, creative, very attractive TikTok and Instagram star. The comedy legend spawned a new icon in his own right and the father and son duo will make you do a double take when you see them side by side. Apparently, Leo gets his looks from his mom's side. Who could have guessed?!
A Familiar Face
We all know John C. Reilly. The comedy actor has appeared in such classics as "Step Brothers" and "Wreck-it-Ralph." What most people don't know is that he has two sons with his wife, film producer, Alison Dickey and one of them is a growing internet star.
A Lot in Common
Leo Reilly is John's oldest son. He's currently 22 years old, and he is a rising star on TikTok and Instagram. And, he's currently taking the internet by storm because he kind of looks absolutely nothing like his famous father.
Looking Fabulous
Leo Reilly has clearly inherited a lot of his father's quirky characteristics, though. Where John C. Reilly channels his personality into acting, his son pursues a variety of different creative passions, like music, visual art and even jewelry making.
Tick Tock
Reilly the Younger has 750,000 followers on TikTok, where he posts videos on a variety of topics, most notably his own music composition experience. His videos often gain hundreds of thousands of views, a fact that should be attributed to his style and humor, not his famous father.
Photoshop Wizard
Reilly is also a huge fan of using Photoshop to create weird and wonderful pictures that defy all logic— such as this image where he's grafted his own head onto his right shoulder!
Genetic Glow Up
Perhaps the biggest surprise of all for many of Leo Reilly's fans is just how hot he is. John C. Reilly is known for a lot of things, but he's most decidedly a very normal looking guy. Leo is now a fashion model and style icon in his own right. So, how did his son turn out so gorgeous?
Stylish
Much of Reilly's Instagram feed is made up of stylish photos as he shows off his unique fashion. The Photoshopped fox in the background of this picture, though, also shows off how he likes to play with reality in the current age of digital trickery.
A Creative Family
Leo Reilly's father isn't the only talented creator in the family. His mother, Alison Dickey, is a movie producer. In fact, Leo's parents met for the first time on a movie set. They were both working on the set of the film "Casualties of War," which was filmed in Thailand.
Musically Inclined
Reilly's biggest creative outlet at the moment is music, and he's currently signed with Republic Records. He has released two singles thus far this year, "Boyfren," and "Rosie." And the music videos for these songs are sure to gain him even more attention.

Visually Distinct
Looking at John C. Reilly when he was Leo's age, it's clear that Leo lucked out. John looked perfectly ordinary, making it even more impressive that Leo looks so stunning. Leo's mothers genes must have been dominant while his father's genes were recessive.
Embracing Oddity
Many of Reilly's Instagram photos show him merging together multiple photos of himself. While he clearly has a strong eye for what looks good on Photoshop, he's not above putting a strange porcupine into the mix if it makes an image feel more surreal.
Fashion Guru
Reilly is currently studying at the Fashion Institute of Design & Merchandising in Los Angeles. If it weren't enough that he's a talented musician and artist, he's also a budding fashion designer, creating a lot of his bizarre jewellery himself.
Odd Sense of Humor
Reilly captioned this photo, "awhile back when pops and i played uno with the loch ness monster." Either the Reilly family are on friendly terms with a mythical creature, or someone's been playing around with Photoshop again... It's great to know that Leo has a strong bond with his talented dad, too.
Big Ol' Nerd
Indeed, Reilly seems to be a big fan of pop-culture and weird fantasy stories, as can be seen from his reference to the beloved anime "Kiki's Deliver Service" in this picture.
Runway Perfect
Reilly also works as a model, having been signed with an agency in New York and another in Los Angeles. He's previously walked in New York Fashion Week for the label Moschino in 2019 and he appeared at many other shows during Fashion Week as an audience member.
Seeing Double
Reilly's brother (not pictured here - this is Leo twice) is a few years younger, having been born in 2001. Thus far he's not shown quite the same love for the limelight that Leo enjoys, but who knows what the future holds?
Up and Coming Popstar
Reilly's debut single, "Boyfren," released in February, and at the time of writing the official music video has around 300,000 views. His second single, "Rosie," released in March and looks set to overtake this first song in YouTube views soon.
Nice to Have a Friend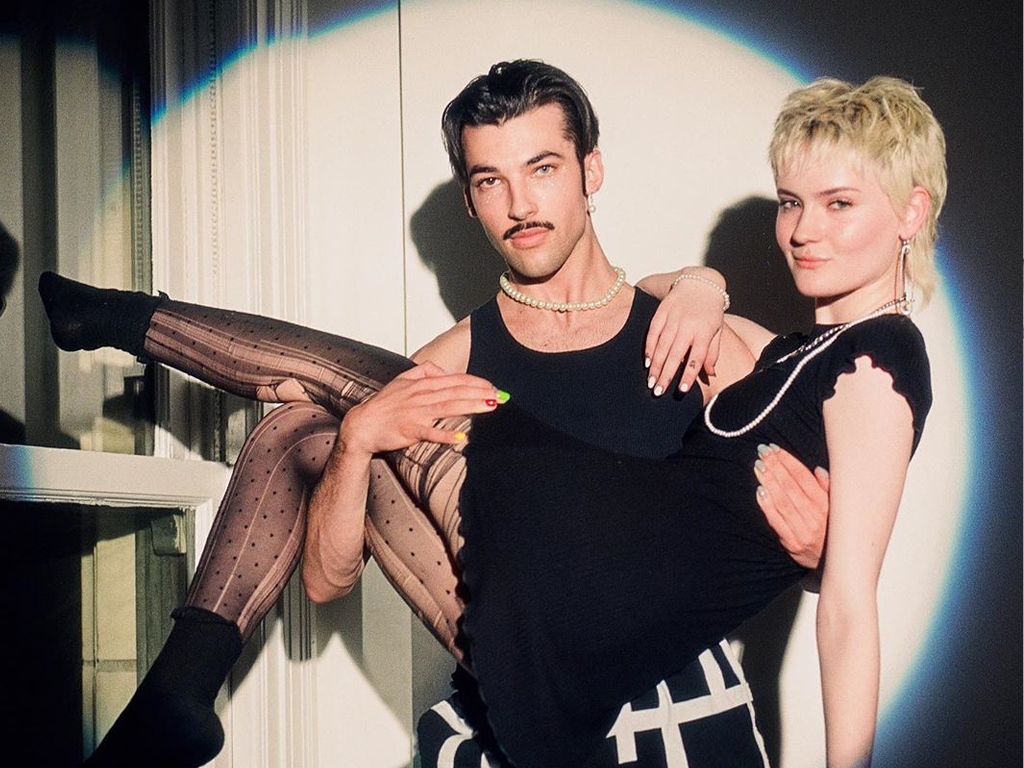 It appears that Reilly is dating fellow model Julia Hutsell. The two have shared photos together online, and have been spotted attending various events as a couple. And it seems like she shares his passion for creativity and an incredible sense of style.
A Gorgeous Couple
Even if these two aren't dating, there's no denying that they're absolutely adorable together! Julia, who is also represented by two modeling agencies, shared Leo's Valentine's Day gift to Instagram; he surprised her with an evening out at an art show, and the two looked as pretty as a picture together.
Music Videos
Reilly uses his impressively large TikTok platform to share videos of himself singing, making music, or just lipsyncing to other people's songs. There's a good chance he'll be able to leverage this attention into a solid music career over the coming years.
Extremely Artistic
Reilly has a lot of avenues open to him at the moment. Whether he pursues art, fashion, music or some combination of the three, or even tries his hand at acting like his father, his future certainly looks bright.
Looking Good!
Plus, if all else fails him, Reilly is really hot. This alone can get you a long way on Instagram at the moment! But don't mention his resemblance to famous singer Freddie Mercury! Leo recently tweeted, "next person to say I look like Freddie Mercury is getting gently kicked in the face."
Moving On Up
It'll be exciting to see what Reilly does next. One thing's certain: the best is yet to come for this rising star! But, what does he think about his father's career? Is Leo a proud son or is he aching to break out of John's shadow?
An Adorable Family
Of course, scroll back far enough on Reilly's Instagram feed, and it's fun to see pictures of him from just a few years ago, alongside his family. Here he and his parents are in London while his dad films "Holmes and Watson."
Like Father, Like Son
These two men might not look very similar, but they clearly have a strong shared creative drive. Maybe the two will collaborate musically in the future, because John C. Reilly has released two country songs with Jack White's label Third Man Records. Here's hoping we get to see more of both of them soon.