The odds of going from virtually unknown to world famous are pretty slim, but that's exactly what happened to Charlotte Awbery from the United Kingdom. In a series of twists similar to Lady Gaga's character in the film, "A Star is Born," Awbery was pushed into the spotlight after someone captured her talent on video.
She Had Never Met Lady Gaga Before
Charlotte Awbery from Essex, England, had never met superstar icon Lady Gaga before, but she definitely had something in common; their love for music. And yet, Awbery had no idea how much her life was about to parallel to one of the singer's movie characters.
She Discovered That Life Does Imitate Art
In the film, "A Star is Born," Lady Gaga played Ally, an aspiring singer who finds herself in the spotlight after Bradley Cooper's character, Jackson, overhears her sing and urges her to share her voice with the rest of the world. But while Awbery wasn't as popular as Gaga, she was well on her way to the top.
Awbery Is in the Music Business
Awbery is already a talented singer who has the potential of becoming a pop star. Unfortunately, a lot of the gigs she's done over the years have never included singing on stage in front of thousands, but that was about to change in an epic and major way.
She Performs Original Music
She has done lots of covers and has proven on social media that she has the kind of voice that could rival legends like Whitney Houston and Celine Dion. But she also has one original song called "Give Up This Girl." Luckily for her, her beautiful singing voice has earned her some serious cash to travel.
She's a World Traveler
According to MTV.com, her Instagram shows Awbery going to a ton of interesting places around the world like Dubai, Cannes, Amsterdam, Ibiza, Sydney, Melbourne and New Zealand. So, she's already living big, but her music career didn't work out the way she expected it to.
Her Career Had Stalled
Her singing career was limited to singing at pubs, restaurants and at weddings over the last 15 years. Most people would have simply given up after trying to jump start their music career. But there was a reason she didn't quit...
Her Dad Inspired Her to Never Give Up
"My dad's always said to me: 'Wherever you are, always sing… Never give up.' He's right," Awbery told Ellen DeGeneres. And she never did, which was a good thing because her father's advice came quite handy when opportunity knocked on her door.
She Already Had Some Followers on Instagram
Although she hadn't gone viral, she still had about 4,000 followers on her Instagram page. So, she kept posting recordings of her musical talent in the hopes that she'd get her big break, and then one day, her big moment arrived.
She Was on Her Way to Meet a Friend
One day, Awbery went to the subway station. It was a regular day just like any other. She was on her way to meet a friend when an encounter with a perfect stranger changed her life.
She Was Confronted With an Oscar-Winning Song
While waiting for her train, Awbery was confronted by social media prankster Kevin Freshwater, who sang the Lady Gaga lyrics for "Shallow:" "Tell me something, girl: Are you happy in this modern world?" Then he stuck his microphone in the 30-year-old singer's face and got her to participate in his skit, "Finish the Lyric."
He Asked for More and She Delivered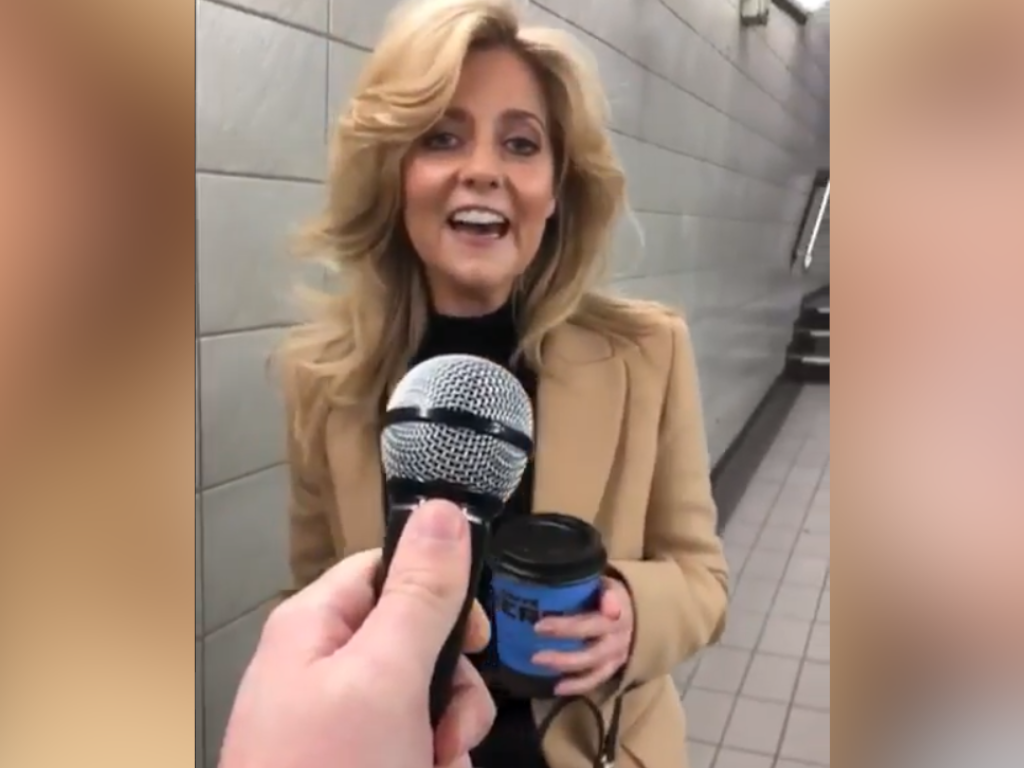 Awbery didn't gasp or question the man's intentions. She continued by singing, "Or do you need more." Freshwater was blown away. He never expected her to be as good as she was, so he told her, "Wow! You're really good — keep going." And she did.
The Video Went Viral
When Kevin Freshwater uploaded the video, he had no idea how many views it was going to get and neither did Awbery. But soon, the numbers soared to 989,160 in just a couple of days. But those aren't the only numbers that went up.
Awbery Gained Thousands of New Followers
Awbery had a couple of faithful followers on social media, but nothing as huge as the numbers she has now. She currently has 445,000 Instagram followers and with her amazing voice, that number is bound to grow.
She Was Blown Away by All the Attention
"OMG WOW! I am completely blown away!" she wrote on her Instagram and thanked her growing fandom for the praises and positive feedback. But not everyone was convinced that her discovered talent was a coincidence.
Some Claim It Was All Staged
Although she's garnered a lot of praise in a short amount of time, she has also learned that naysayers are always lurking around the corner. In fact, some people have claimed that the subway encounter was staged, but Awbery explained that she was just as shocked as everyone else by all the attention.
She Never Expected to Be Discovered This Way
According to Buzzfeed, shortly before her Twitter account went down, she tweeted, "I've been in this business for over 10 years. I never expected it to happen in such an unexpected and amateurish way." And now, everyone wants her, even DeGeneres.
She Was a Guest on "Ellen"
On February 26, 2020, Awbery appeared on "The Ellen DeGeneres Show." During her appearance, she got the chance to explain how she was discovered by Freshwater. Then she proved to everyone in the audience why she was such a big deal.
She Got a Standing Ovation
She performed her version of Lady Gaga's "Shallow" which caused audience members to go wild. They even gave her a well-deserved standing ovation. But the man who had discovered her also had something to share with everyone.
Freshwater Felt She Deserved Her Fame
"She just blew me away," Freshwater told DeGeneres while talking about the first moment he met Awbery at the London Subway station. "I was just in shock." Then he shared, "She deserves this. I was come to tears then, watching you sing. You deserve this." But DeGeneres wasn't done with Awbery just yet.
Ellen Gave Her Two Special Gifts
DeGeneres is known for giving away gifts to special guests like Awbery. So, she gave her a year-long London tube pass and £10,000, courtesy of Shutterfly, to which Awbery replied, "Are you serious?" Then she hugged the talk show host. But this wasn't the first music cover she's ever done.
She Has Also Covered Sia and Celine Dion
Awbery has covered tons of other hit songs like Sia's "Chandelier," Celine Dion's "Love is on the Way," and Judy Garland's "Over the Rainbow." But she had never gotten the chance to share these with a broader audience until now.
She Started Resharing Her Old Covers
She started resharing a lot of her cover songs on social media in the hopes of introducing her amazing musical voice to her newfound followers. But has Gaga gotten the memo yet?
Gaga's a No-Show on Awbery's Popularity Train
Unfortunately, there's no word yet on whether Lady Gaga has seen the viral video of her musical doppelganger, but the internet has noticed and they're starting fan clubs in Awbery's name.
Just Call Her Fanbase Charlotte's Web
Her fanbase has grown by leaps and bounds in the short time since Awbery's voice went global. In fact, her fanbase is calling themselves Charlotte's Web, according to Buzzfeed. But to some, she's the new Queen of Pop.
She Won Other Pop Stars Over
Fans joked that Awbery had joined The Pussycat Dolls, and the girl group didn't seem to mind as they retweeted the joke. Ariana Grande reportedly became a fan too after Awbery posted a video of her doing Grande's "No Tears Left to Cry." So, it looks like this gal is well on her way to becoming the world's next pop star.