"Parks and Recreation" has earned its place among our most beloved sitcoms for its incredible cast, endearing characters, and laugh-a-minute humor. It only gets better upon repeated viewing as you start to notice some of the smaller jokes and details that show just how clever the writers are. Here are some things you might have missed so you can keep an eye out on your next inevitable re-watch.
Leslie's Doctor Predicted the Triplets
Most "Parks and Rec" fans probably realized that Chris, Leslie's creepy MRI technician date in the season two episode "The Set Up," was played by Will Arnett, who was Amy Poehler's husband at the time. It's only in hindsight, though, that we can pick up on the foreshadowing that Chris delivered when he told Leslie that her uterus was healthy enough to "have triplets right off the bat," which is exactly what she did at the end of season six.
Ron's Only Halloween Costume
When Ron shows up at the Halloween party in the season four episode "Meet 'N' Greet" wearing the same simple pirate costume he wore in season two episode "Greg Pikitis," Andy questions the repetition and Ron responds matter-of-factly, "This is my Halloween costume." Ever true to his word, Ron once again dresses as a pirate, this time without comment, in the season five episode "Halloween Surprise."
Ann Forgot That She Dated Mark Brendanawicz
In season five, Ann Perkins hoped to break her bad habit of changing her interests to align with her current boyfriend by getting rid of boxes full of things that remind her of past relationships. There are boxes for Chris, Andy, Tom and even someone named Rob, but notably missing is a box for Mark Brendanawicz, Ann's boyfriend throughout season two. We can only assume that Mark was so boring that he didn't have any interests worth adopting, or that Ann forgot about him entirely.
Andy's List of Places to Live
In the season four finale, after April accidentally deleted all of the Parks Department's files and feared she would be fired, she and Andy tried to brainstorm plans for a new life. Andy briefly flipped over a page of places they could live that's full of amusing options from the "Game of Thrones" castle Winterfell, to South Africa (because it's the birthplace of Andy's hero Dave Matthews), to nearly all of the locations from the Beach Boys' "Kokomo."
The Unlikely Truth of the Sweetums Molasses Explosion
When Tom and Ben sought a business partnership with Sweetums in the season five episode "Leslie vs. April," they learned that the company was dealing with a PR nightmare after one of their molasses vats exploded and "people died." The story sounds too ridiculous to be true, but it was based in fact, as the Great Boston Molasses Flood of 1919 really did kill or injure almost 200 of the city's inhabitants.
Ron Swanson Pyramid of Greatness
One of the most detailed props in all of "Parks and Rec," the Ron Swanson Pyramid of Greatness, contains all kinds of nuggets of wisdom from everyone's favorite libertarian on topics ranging from facial hair ("if you have to sculpt it, you probably can't grow it") to torsos ("should be thick and impenetrable") and skim milk ("avoid it"). The pyramid also places "Romantic Love" at the same level as various animal proteins, reinforcing Ron's respect for a quality cut of meat.
Jim Gaffigan's Brief Appearance
In the season two episode "The Camel" when Pawnee City Hall looks for a new mural, Donna presents a version of "The Last Supper" featuring Hoosier celebrities including David Letterman, Larry Bird, John Mellencamp, and Greg Kinnear as Jesus. One celebrity who appears in Donna's mockup but for some reason isn't mentioned by name is comedian Jim Gaffigan, who would have made for a great guest star as one of Pawnee's colorful characters.
'Infinite Jest' References
In the season five episode "Partridge," series creator Mike Schur went a little crazy with references to "Infinite Jest," the lengthy tome by Schur's favorite author David Foster Wallace. Among other things, fans of the novel may recognize the names of the hospital where Ben is treated for kidney stones, as well as the partners of the law firm that represents Jamm when he sues Ron for punching him in the face.
Surprisingly Detailed Newspapers
Shauna Malwae-Tweep's coverage of Andy catching the infamous possum, Fairway Frank, resulted in a newspaper article that appeared onscreen for only a split second. You might expect that the newspaper prop would be mostly filler text, but it actually includes some funny details that only the most eagle-eyed viewers could catch, including Andy's quote that Frank was "slippery, like a seal, but also quick, like a quick seal."
Rachel Ray at the Wamapoke Casino
After Leslie argued with Wamapoke native Ken Hotate about the location of the Harvest Festival, which she planned to host on the site of a battlefield where many of his ancestors died, he tells the camera there are two things he knows about white people: "They love Rachel Ray, and they are terrified of curses." A brief shot later in the episode reveals that Ken, a shrewd businessman, put this knowledge to use by hosting a Rachel Ray event at the Wamapoke Casino.
Ben Wyatt, Human Disaster
The season three episode "Media Blitz" was a tough episode for Ben Wyatt as the Pawnee media caught wind of his disastrous past as a teen mayor. Ben's neuroses predictably caused him to crack under the intense scrutiny and dig himself an even deeper hole, culminating in an appearance on Joan Callamezzo's show briefly accompanied by the sad-but-hilarious caption "Ben Wyatt, Human Disaster."
Sewage Joe's Alma Mater
In the season four premiere, Ben and Chris investigated the sender of lewd pictures to the women of City Hall and eventually pegged Sewage Joe, in the process discovering his unlikely alma mater through the email he used to distribute them: [email protected] Ben was understandably flummoxed by Joe's attendance at the prestigious liberal arts school, but Joe acted like it was no big deal that he "wanted a small college experience."
Kyle, the Unfortunate Shoeshine Customer
Kyle made a series of appearances as Andy's most loyal shoeshine customer, despite the fact that the poor guy often fell victim to Andy's carelessness and misguided jokes. Perhaps Kyle's lowest moment, though, was when Jerry of all people called him out for being pretentious during the judging of the burger cook-off between Ron and Chris.
Andy's Weight Loss
The season six premiere saw a change of scenery as some of the 'Parks' gang traveled to London, and it also featured a much slimmer Andy Dwyer. In a throwaway line, Andy told an impressed Ben that his secret to weight loss was just to stop drinking beer. The real reason? Chris Pratt needed to be in action-movie-star-shape for his role as Star Lord in "Guardians of the Galaxy."
Star Lord Halloween Costume
In the series finale, one of the flash-forward scenes showed a group of trick-or-treaters coming to April and Andy's door. Among them is a kid dressed as none other than Star Lord himself, offering a more direct homage to Pratt's recurring role in the Marvel Cinematic Universe.
Leslie's National Parks Conference Presentation
In the season six finale, Leslie Knope gave a presentation at the National Parks Conference in San Francisco about her experience leading the Pawnee-Eagleton merger. In true Leslie fashion, of course, the presentation had a clever, punny title: "Merger, She Wrote."
The Extended Lerpiss Family
The "Parks and Rec" writers hid a number of inside jokes among the names of minor characters, many of which were never even mentioned aloud on the show. One of the most notable examples is the Lerpiss family, consisting of at least eight background characters, including pawn shop owner Herman, purveyor of adult films Dennis, and Paunch Burger enthusiast Bjorn. Only the show's creators know all of the ins and outs of their complicated relationships.
April's Sister, Natalie
April Ludgate's sister Natalie made a few appearances throughout the "Parks and Rec" run, starting with a season two episode where Ron goes to April's house to convince her to come back to work for the Parks Department. Natalie's actress mirrors Aubrey Plaza's performance so perfectly that you might think the two are sisters in real life. They aren't, but the character Natalie is named after Plaza's real-life sister who helped inspire the character of April.
Yo La Tengo as Bobby Knight Ranger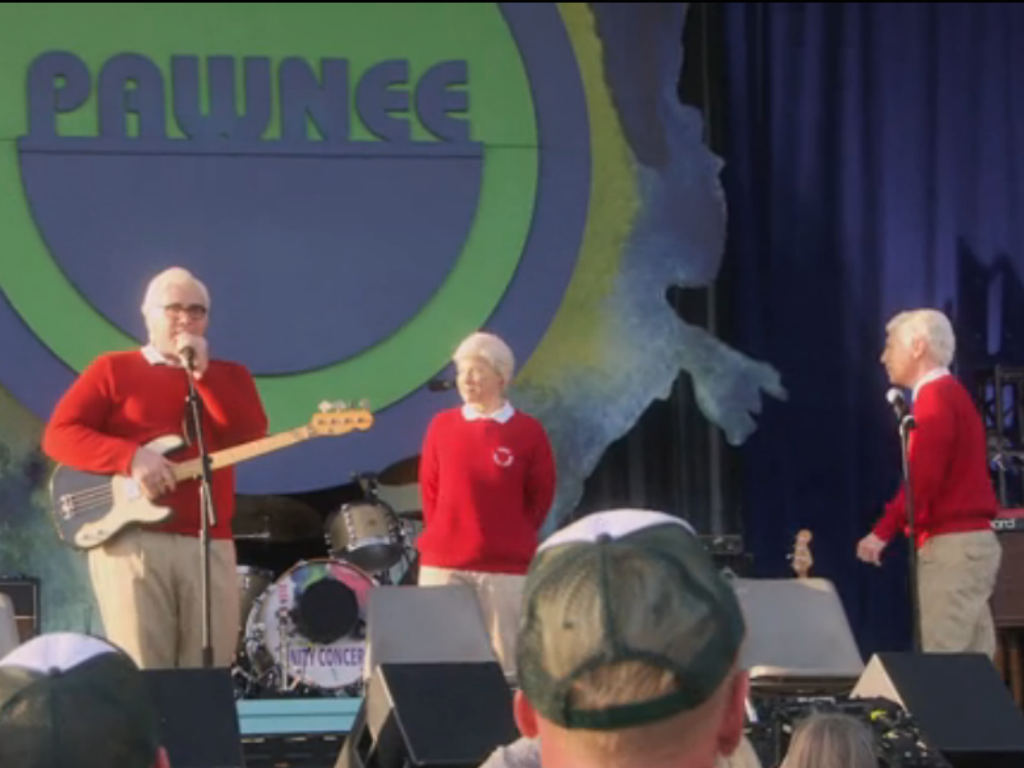 Wilco's Jeff Tweedy is pretty recognizable as local rocker Scott Tanner at the Pawnee Eagleton Unity Concert, but the identities of the members of Bobby Knight Ranger were a little more difficult to discern beneath their white wigs and red sweaters. As it turns out, the band was played by indie rock group Yo La Tengo, who are friends with one of the show's writers.
Ben's Letters to Cleo Fandom
Nineties rock band Letters to Cleo also performed at the Unity Concert, giving Ben Wyatt a chance to geek out from backstage. Observant fans may have been able to see this coming, as Ben lounged around the house in a Letters to Cleo t-shirt while he was out of work all the way back in season four.
Unity Concert Side Stage Lineup
A bulletin board in the background of the season six finale showed a list of Unity Concert acts and events that we wish we could have seen, including "Weakened Update," a reference to Amy Poehler's role as anchor on the "Saturday Night Live" sketch, as well as the awesomely named "Zeep Zap Zorp" and the surely entertaining "SQUARE Dance Off."
Gryzzl Products Everywhere
"Parks and Rec" had some fun with the three-year time jump at the start of season seven, using it as an excuse to work in some far-fetched near-future predictions. One of the coolest was the proliferation of mobile devices from the in-universe tech company Gryzzl that featured holograms in place of physical screens. The products were so ubiquitous that even Barney, Pawnee's most boring accountant, had one on his desk.
The Show Predicted the End of 'Game of Thrones'
Like seemingly everyone else in the world, Leslie and Ben were big fans of 'Game of Thrones,' and the season seven time jump also allowed 'Parks and Rec' to poke some fun at how the hit HBO show might end. Leslie's claim that Khaleesi marries Jack Sparrow in the series finale didn't quite turn out to be accurate, but it is eerily prescient given the eventual introduction of Euron Greyjoy to the drama series, another eyeliner-wearing pirate character.
Is Leslie or Ben President?
The flash-forwards in the series finale revealed that Ben and Leslie both consider running for governor of Indiana before Leslie ultimately won, but is it possible that one of them attained an even higher office? In Garry's funeral scene, Secret Service agents accompanied the aging couple, providing a not-so-subtle suggestion that one of them was President of the United States. We may never know the definitive answer to this tantalizing question, but it's fun to imagine the improvements that some version of a Knope-Wyatt presidency could bring.
Bringing the Series Full Circle
The "Parks and Rec" series finale provided fitting endings for major and minor characters alike, but there's one subtle detail that truly ties a neat bow on the show if you know to look for it. The man at the beginning of the final episode who asked the Parks Department for help fixing a swing is the same actor and character as the man Leslie removed from a slide all the way back in the pilot episode.