Kids are both the best and the worst at life. One moment they speak absolute nonsense, and the next moment they have mastered comedic timing. Here are some adorable little bundles of joy who have no idea how funny they are.
A Glorious Moment
From Jody Avirgan: "My daughter just tried pizza for the first time."
Relatable
According to Redditor ilovepretzles69, her daughter "looks like a mom that regrets all her life decisions." This face is very familiar to anyone who's actually had to feed a baby this small.
Bubbles Everywhere
This Reddit user's former marine neighbor begged for help when his wife was out of town. This was the scene that greeted them.
A Patient Dog
Instagrammer @teammikey has learned why you should never leave your kid alone with the family dog, no matter how patient the dog might be.
Gentle
Twitter user @gothamsbatman's nephew was told to "gently kiss the dolphin." He tried his best.
The Perfect Resting Spot
Redditor mpbishop: "Imagination Level 100. My 2-yr-old daughter drew a pillow with chalk, then laid down for a nap..."
Like a Ninja
Reddit user: "My Son's hide-and-go-seek spot."
Freedom Awaits
Redditor xAmericanNightmarex: "My niece discovered the cat door today."
With Great Power...
Redditor nallette: "My son was invited to a birthday party to learn "superhero" moves. Aka jujitsu. He took it very seriously."
Comes Great Responsibility
Janile Gross: "I asked my 5 year old to keep an eye on his sister while I served him dinner, I peek out of the kitchen and find him like this."
Morning Face
Redditor C-SPANdex: "My son is my spirit animal."
Invisible
Redditor Damian411: "My daughter trying to hide when shes supposed to be in bed."
Nighttime Cuddles
Tori Hamlin shared this picture of her son asleep, cuddle up with his pet fish. This led to an awkward conversation in the morning.
Modern Art
Redditor hfletch13: "I asked for art for my new apartment this Christmas. May I present 'butterflies,' a painting from my nieces made entirely with their butt cheeks. Lovely."
Sweet Dreams
Twitter user @kidsareworst has shared this wonderful picture of a child preparing their younger sibling for a lifetime of therapy.
Fashion Advice
Redditor imblackgrapes has shared this photo of a friend's son helpfully warning a man that his pants are about to fall down. He wouldn't want the man to be embarrassed.
Two for the Price of One
From Redditor Trampolice: "My daughter thought this was her. Bonus: My son in the background."
Sore Loser
Redditor moonstep77 says: "My daughter and my puppy fight over who's going to warm their butt on the vent in the morning. The baby won today. The puppy is pouting about it."
Trying Hard
This kid, a friend of Redditor Jalooofie, is trying desperately to pick up a book, but has no idea why it isn't working.
Blub Blub
Twitter user @bethhsharples spotted a kid snorkling in a public fountain. This is really not a good idea for so many reasons.
Fun in the Bath
Twitter user @TheMilfGod found her son eating hot wings in the bath tub. This kid has life all figured out.
Considerate
Redditor mysoulishome says: "My daughter is so considerate."
Nightmare Fuel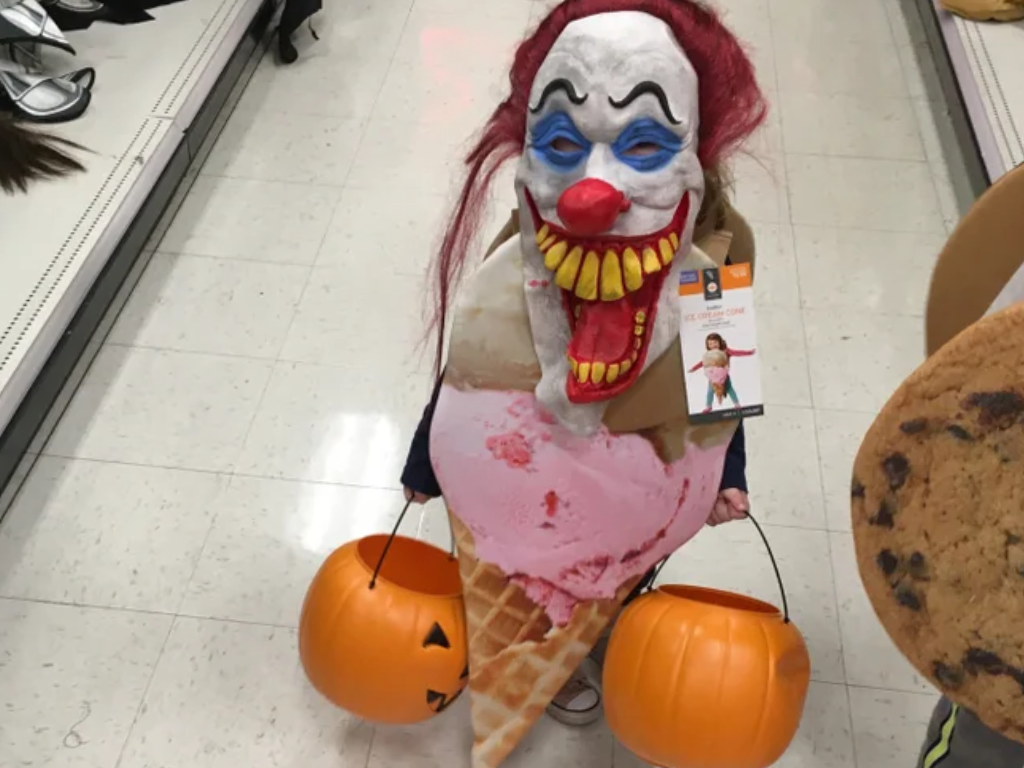 From Redditor moonfetus: "What my 2 year old daughter chose for her Halloween costume."
Anyone Can Wear the Mask
From Redditor Ed_Sykes: "My buddy just posted this photo of his nephew during his Christmas nativity play. Not a single f**k was given that day…"